Man dies after Brazil football fan violence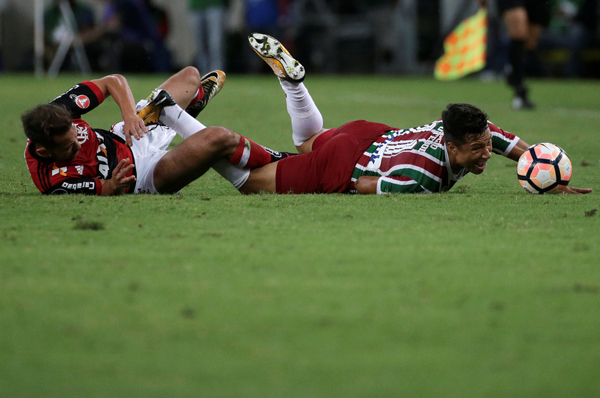 Everton Ribeiro (L) of Flamengo and Marlon of Fluminense in action at Maracana stadium in Rio de Janeiro, Brazil, Nov 1, 2017. [Photo/Agencies]
RIO DE JANEIRO - A man has died after being shot in the head during clashes between football fans in Brazil, local officials said on Wednesday.
Carlos Afonso de Oliveira Leite, 24, was one of three people gunned down before Vasco da Gama's clash with Flamengo at Rio de Janeiro's Maracana stadium on Saturday.
The two other victims suffered minor injuries, with one already having been released from hospital, according to a local government spokesperson.
Police said a homicide squad was investigating the incident, with the culprits still at large.
The clashes took place in the neighborhood of Fonseca, where groups of supporters from both teams congregated before the match.
On Saturday, police said that 77 Vasco da Gama fans were arrested after being found carrying weapons and flares at a supporters' club headquarters in the neighborhood of Sao Cristovao.