Curry scores 40 as Warriors smash Timberwolves 142-110 at NBA China Games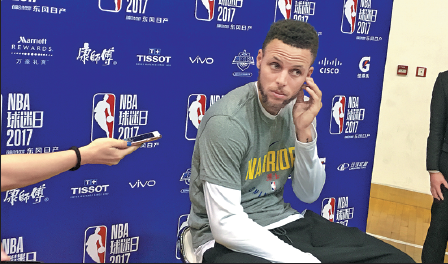 Stephen Curry of the Golden State Warriors answers questions during NBA Fan Day on Saturday in Shanghai as part of the NBA China Games 2017. [Shi Futian / China Daily] 
SHANGHAI - Stephen Curry had 40 points to lead Golden State Warriors overwhelm Minnesota Timberwolves 142-110 at the NBA China Games 2017 here on Sunday.

Curry, who holds the NBA record for most 3-pointers in a season (402 in 2015-2016), needed only three quarters to score a game-high 40 points and six 3-pointers. Klay Thompson buried 8 of 10 3-pointers to finish with 28 points while Kevin Durant, the 2017 NBA Finals Most Valuable Player, contributed 22 points.

"Stephen had an amazing show for the fans tonight, that is what they are waiting to see. I was most pleased with our defence in the third quarter, we picked up our intensity after Stephen led the spurt," said Warriors head coach Steve Kerr.

The Warriors lagged behind by 10 points in the second quarter but responded with a 16-5 run to take a 76-72 lead into the second half. Curry hit a pair of 3-pointers during a 25-9 run in the third quarter to give Golden State a 114-95 lead, and the Timberwolves got no closer thereafter.

Golden State's 142-point game is the highest-scoring performance in the history of the NBA China Games. The final preseason game for the Warriors is against the Sacramento Kings after they return home to the Bay Area.