Golden State juggernaut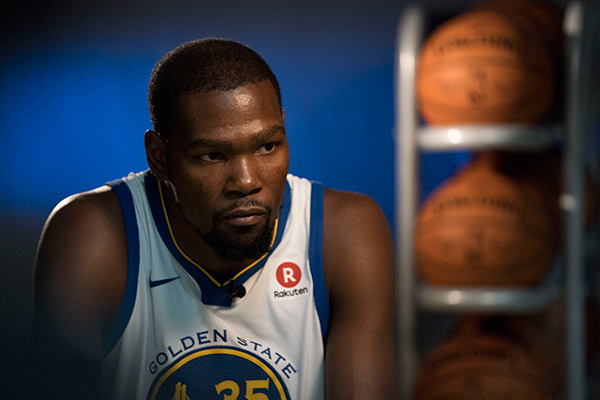 Golden State Warriors forward Kevin Durant (35) during media day at Rakuten Performance Center in Oakland, California, US, Sept 22, 2017. [Photo/Agencies]
Offseason additions have added to Warriors' aura of invincibility
The Golden State Warriors finished an NBA-best 67-15 in the 2016-17 regular season, went a league-record 16-1 in the playoffs and won their second championship in three years.
They could be even better this season.
The Warriors have their top players returning and they've added two accomplished NBA veterans and an intriguing rookie who was one of the best defensive players in college hoops.
On top of those developments, Golden State's outstanding chemistry could be further strengthened now that 2017 NBA Finals Most Valuable Player Kevin Durant - a champion in his first season with the Warriors - is fully acclimated to playing alongside three fellow All-Stars in two-time regular-season MVP Stephen Curry, defensive ace Draymond Green and sharpshooter Klay Thompson.
"We have great potential and the opportunity to do some amazing things and win more championships," Curry said during the offseason.
"When you have that chemistry, you don't want it to end. You don't want to have to start over. You want to take advantage of the camaraderie and the chemistry and the vib that we've created around the Warriors' organization."
The Warriors will show off their talent and spirit when they compete against the Minnesota Timberwolves in NBA China Games 2017, presented by Master Kong.
Head coach Steve Kerr will lead Golden State against Minnesota on Oct 5 at Shenzhen Universiade Center, followed by a rematch on Oct 8 at Mercedes-Benz Arena in Shanghai.
The games will mark the Warriors' third trip to China and help them gear up to defend the championship they secured by defeating the Cleveland Cavaliers in their third straight Finals matchup last spring.
Golden State's fifth title followed a terrific regular season in which the Warriors flourished at both ends of the court, leading the NBA in offensive rating, scoring, assists, field goal percentage, steals, blocked shots and opponents' field goal percentage.
Last season's offense was so spectacular that the Warriors ranked as the NBA's highest-scoring team in 25 years, even though Durant missed 20 games.
When the league's 2013-14 MVP suited up, he shot a career-high 53.7 percent from the field and his average of 25 points per game was second on the team behind Curry's 25.3, while Thompson averaged 22.3.
Kerr, one of four head coaches in NBA history to win two championships in his first three seasons, was not surprised at Durant's quick assimilation.
"We've got a bunch of guys who are talented and can shoot and pass and dribble, and they're unselfish," Kerr said after the Warriors won last season's Finals in five games. "There was never any question in my mind that KD was going to fit in and make this work."
The Warriors have reason to believe they can find yet another level on offense this season. As if bringing back 10 of their top 11 players in terms of minutes played weren't enough, they have fortified their shooting off the bench with the addition of guard Nick Young and forward Omri Casspi.
Young, 32, enjoyed a resurgence last season when he averaged 13.2 points and shot 40.4 percent from three-point range with the Los Angeles Lakers. Casspi, 29, the first Israeli player in the NBA, reached career highs of 11.8 points and 40.9 percent shooting from beyond the arc with the Sacramento Kings during the 2015-16 season.
In a game that season, Casspi made nine three-pointers and scored a career-high 36 points against the Warriors.
While Golden State's offense generates much of the buzz, the team's defense is just as effective. Anchored by Green, the reigning NBA Defensive Player of the Year, the Warriors finished last season with the league's second-best defensive rating, behind the San Antonio Spurs.
Green will have a young protege to mentor this season after the Warriors' acquisition of 6-foot-8 rookie forward/center Jordan Bell, the 38th overall selection in NBA Draft.
Golden State made a draft-night trade to land Bell, the all-time leading shot-blocker at the University of Oregon and the 2016-17 Pac-12 Defensive Player of the Year.
China Daily