World-class in Wuhan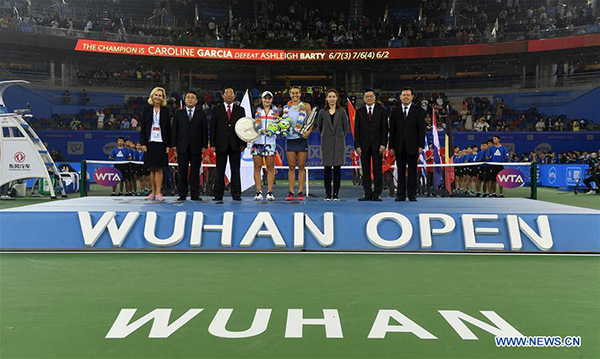 Caroline Garcia (4th R)of France and Ashleigh Barty of Australia (4th L) pose with guests on the awarding ceremony after the singles final match at 2017 WTA Wuhan Open in Wuhan, Central China's Hubei province, on Sept 30, 2017. Caroline Garcia won 2-1. [Photo/Xinhua]
Capital city of Hubei province is home to both a top-flight international tournament and a growing reputation for bringing tennis closer to the people. China Daily reports.
Wuhan is sparing no effort in using the Wuhan Open, a WTA Premier 5 tournament, as a platform to showcase the city's ambition to become a premier sports hub.
The elite tournament not only attracts the best female players from around the world, but helps cultivate and expand tennis culture, inspiring more people to get involved in the sport.
This year's Wuhan Open featured current Wimbledon champion Garbine Muguruza, reigning French Open champ Jelena Ostapenko, newly-crowned US Open titleholder Sloane Stephens, world No 2 Simona Halep and former world No 1 Karolina Pliskova, who is currently ranked No 4.
To guarantee the success of such an extravaganza, the capital of Central China's Hubei province and the tournament organizers left no stone unturned to offer better experiences for both players and fans.
To promote both the tournament and the city, a series of activities were launched, including a ball kids exchange program with the French Open, journalistic opportunities for aspiring young reporters from middle schools, and China tennis legend Li Na hosting a series of promotion events.
"We selected ball kids form 41 schools in Wuhan," said tournament director Zhu Jianbin, who also serves as chairman of Wuhan Sports Development and Investment Co Ltd.
"We have been partnering with the French Open for three years. Four of the most outstanding ball kids from here will be sent to take part in the tournament at Roland Garros. Another highlight was launching the program for young journalists from middle schools to cover the tournament from kids' point of view."
As global ambassador for the Wuhan Open, two-time Grand Slam champion Li participated in many activities aimed at making her hometown "a city of tennis" while nurturing the future of the sport in China.
"Right now, I see a lot of young people picking up tennis rackets," said Li. "First, you need to really love what you choose. Sometimes, maybe it is the families who tell you that you should play, but for their inside heart, they need to like it. You have to keep loving what you're doing."
Known affectionately as "Big Sister Na" by her millions of adoring fans, Li hosted a tennis clinic for youngsters ahead of the tournament and is using her status as Asia's most decorated player to introduce the people of Wuhan to the game that has brought her so much fame and fortune.
Optics Valley International Tennis Centre, a brand new world-class facility, was the main venue for the tournament. It covers an area of 103,400 square meters, has a grand main stadium of 15,000 seats, an annex of 5,000 seats and a number of standard outdoor hard courts.
"Providing players with better services is our first priority," said Zhu. "Based on our experiences of organizing previous tournaments, we changed the accommodation plans to let players commute more conveniently. We also planned entertainment activities for players to relax after their training or competitions.
"We also improved our information services and established a 'smart' stadium by guaranteeing wifi signals for fans within the tennis center. It's very advanced for China."
Contact the writer at shifutian@chinadaily.com.cn
Reuters