Beijing brings bliss to Brazil's reborn Renato
Guo'an star has 'developed on and off field'
RIO DE JANEIRO - Brazil international midfielder Renato Augusto has lavished praise on Chinese soccer, saying that his decision to move to Beijing Guo'an has helped him flourish on both a professional and personal level.
Augusto has been one of the most consistent performers in the Chinese Super League since his arrival from Corinthians last January.
The 29-year-old has been rewarded by becoming a mainstay in Brazil's first XI under coach Tite and, barring injury, is guaranteed a place on his country's squad at next year's World Cup in Russia.
"There are some things in life that you cannot say no to," Augusto told Brazil's Globo newspaper of his decision to join Guo'an.
"The financial offer was great, however a lot of people said that if I came to China I would lose my place in the Brazil team. But I prepared myself to work as hard as I could and strive to play at a high level so that I could continue my international career."
Despite the cultural differences between Beijing and his home city of Rio de Janeiro, Augusto has adapted swiftly to life in the Chinese capital
"Beijing is an incredible city," he said. "You have every possible chance to have fun and live well.
"You can find the highest quality restaurants of several nationalities: Italian, Thai, steakhouses...
"And I live two minutes from the club's home, so I don't have to worry about traffic. Because I live so close to the stadium, I don't even need a car. I'm in a new phase in my life and it's making me a better person. I'm growing on and off the field."
As for the quality of the Chinese Super League, Augusto said it now deserved to be ranked among the strongest club competitions in the world - an evaluation in stark contrast to Shanghai Shenhua striker Carlos Tevez's recent summation that Chinese players are technically and tactically below par.
The CSL has attracted established global stars like Oscar, Tevez, Hulk and Ramires, and Augusto is also impressed by the strides made in upgrading facilities.
"When I arrived, they (Beijing Guo'an officials) called me and asked me what I needed at the club and how I thought it could improve," he added.
"I gave them a list of recommendations and they started making changes. They improved the locker room, the gym.
"The club has grown a lot since I first came here. Chinese football is developing quickly. More and more top players are coming."
Xinhua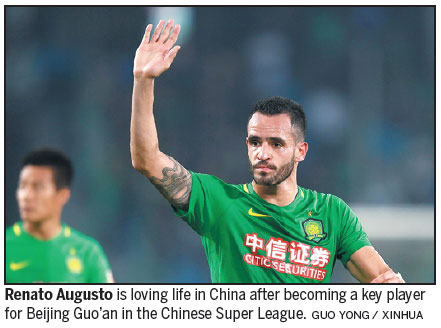 Most Popular
Highlights
What's Hot