Digit's winning equation for women
As one of the winningest coaches in elite women's hockey, Digit Murphy knows a thing or two about molding successful teams on the ice.
Now the veteran is raring to make China her next success story as the country bids to realize its dream of a podium finish at the 2022 Beijing Winter Olympics.
Murphy, whose impressive CV boasts top honors in the collegiate and pro ranks over two decades in North America, was hired in March as head coach of China's national women's program and the Kunlun Red Star women's squad, which is competing this season in the professional Canadian Women's Hockey League.
She believes the plan to recruit overseas Chinese players onto the national team is essential.
"There is no doubt in my mind that this system to utilize North American Chinese is going to work," said Murphy, who led the Boston Blades to the CWHL title in 2013 and 2015.
"When you mix it up like that, the homegrown Chinese players can only improve."
Murphy's dual appointment affords her complete control over virtually every aspect of the women's game in China, including player recruitment, training and off-ice management.
"For me, this is really mission-driven," said Murphy, who helmed Brown University to 318 NCAA Division 1 wins between 1989 and 2011.
"I have lots of knowledge and I want to share it with China."
At tryout camps held jointly by Red Star and the Chinese Ice Hockey Association in Canada in June, 19 Canadian and American players, including five of Chinese descent, were drafted to join 23 Chinese in forming two club entries for the upcoming CWHL season.
The teams will fly to Vancouver on Sunday for five preseason games against the University of British Columbia before the season opens on Oct 21.
All the Chinese players will be called up together as a national unit to play exhibition games against their North American counterparts during breaks in the regular season schedule.
Yu Baiwei, a veteran of Team China's last Olympic appearance at the 2010 Vancouver Winter Games, said training with foreign teammates in the seven-team circuit will provide invaluable experience for homegrown players.
"The frequency and intensity of games in the CWHL will drive our girls to new levels," said Yu.
Red Star's Jessica Wong, a Canadian whose grandmother was born in Guangdong province, said she would be proud to represent China in 2022.
"I am half Chinese so to come to here to help grow the game and prepare for a medal in 2022 is an amazing experience," Wong said.
Murphy agreed, adding: "The sky's the limit if you start five years ahead with the right resources, mindset and belief in the mission."
sunxiaochen@chinadaily.com.cn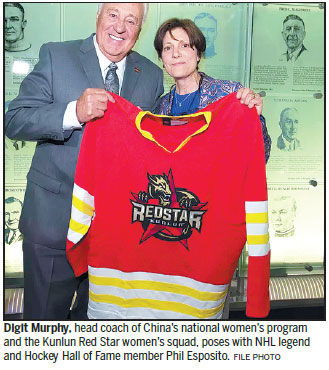 (China Daily 09/22/2017 page24)