Chinese Olympic champion Wei Qiuyue announces retirement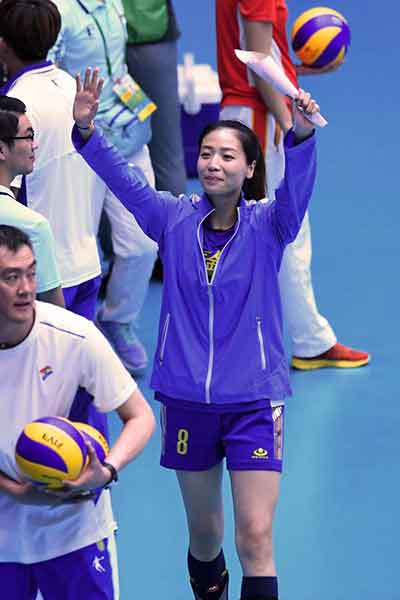 Wei Qiuyue greets home audience after Tianjin's 3-0 loss to Zhejiang in the 5th-6th decider in women's volleyball tournament of the 13th Chinese National Games in Tianjin, Aug 28, 2017. [Photo/Xinhua]
TIANJIN - Chinese Olympic champion Wei Qiuyue announced retirement from professional volleyball Monday afternoon following Tianjin's 3-0 loss to Zhejiang in the 5th-6th decider of the 13th Chinese National Games women's volleyball tournament.
"I am going to retire after this Games," said the 28-year-old Wei, who won the gold medal of the Rio Olympic Games with the Chinese women's volleyball team. "I have not made up my mind on my future, but I am sure I will be love volleyball as always."
Despite struggling with knee injury in the last few years, the star setter helped the Chinese women claim back-to-back titles at the World Cup and Olympic Games in 2015 and 2016.
"It's a pity that we failed to make the semifinals this time, but we have fought for every point and showed everybody the fighting spirits of Tianjin women's volleyball team."
Tianjin, who have dominated the women's volleyball gold medals in the last three National Games, settled for the sixth place.
"It's the last game for some veterans of our team, we cherish every moment and every point," Wei added. "We had so much great time together."