Neymar's cryptic message heats up PSG speculation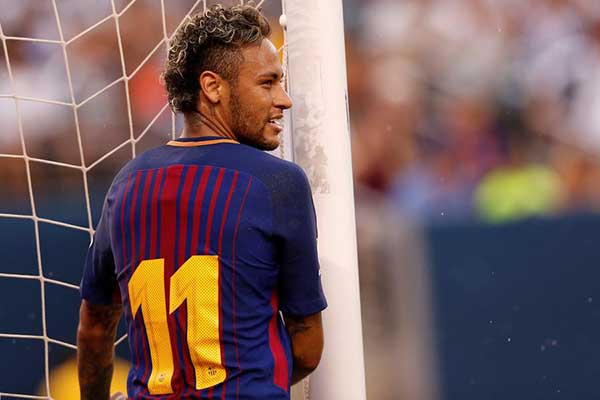 Barcelona's Neymar reacts after missed shot against Juventus during their International Champions Cup in East Rutherford, New Jersey, US, July 22, 2017. [Photo/Agencies]
The intrigue surrounding Neymar's future at Barcelona took another twist on Saturday when the mercurial forward announced he would be in Shanghai on Monday.
It came a day after a major event organizer in China said a meet-and-greet with Neymar on Monday in Shanghai would not take place because the player and his advisers were busy with transfer business.
That added to swirling speculation that the unsettled 25-year-old could be poised to join Paris Saint-Germain for a record-breaking $265 million.
Footage also emerged of Neymar having a training-ground altercation with new Barcelona signing Nelson Semedo in Miami before Barcelona defeated Real Madrid 3-2 in a high-profile friendly on Saturday.
Then Neymar sent a first message on Weibo, China's equivalent of Twitter, saying: "Greetings to the fans in China! I'm Neymar Jr, this is my official Weibo account.
"I am going to be sharing my own personal experiences here with Chinese fans.
"I'm looking forward to your following and reposting! See you in Shanghai on Monday!"
The message was written in English and Chinese, but gave no further details on his movements in China.
Barcelona teammates said last Friday they have begged Neymar to resist the temptation of moving to PSG.
The French giant is supposedly ready to launch a record-breaking move for Neymar, sparking exit fears.
"It's true, something did happen, but that's sometimes what happens in training," Barca midfielder Andres Iniesta said.
"All the talk about Neymar right now, everything is magnified. Things like this can happen. It's a personal decision for him, but of course we want him to stay."
Strike partner Luis Suarez has formed a deadly partnership with Neymar and echoed Iniesta's calls for the interest from PSG to be dismissed once and for all.
"As soon as he clarifies the situation it's better for us and for him," said Suarez.
"He will have his say when he is ready and as a teammate I will support him no matter what. Our relationship won't change. We want him to stay."
Barcelona manager Ernesto Valverde swerved the media on the eve of the match with archrival Real, but Iniesta sang Neymar's praises.
"For me, he's one of the best players in the world. He brings so much to the team and hopefully he will stay for many years," Iniesta said.
"He is worth more than $200 million or $300 million. His playing style suits us perfectly and he can only improve with us."
AFP
Most Popular
Highlights
What's Hot