Shanghai at center of UFC universe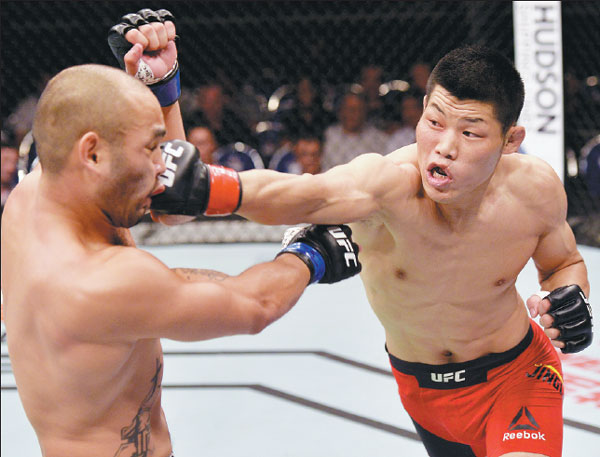 China's Li Jingliang lands a straight right to Frank Camacho's face during their welterweight bout at UFC Fight Night in Singapore in June. Li, a native of Xinjiang who fights out of Beijing, has a pro MMA record of 13-4. Brandon Magnus / Zuffa Llc via Getty Images
World's top MMA organization 'excited' over November event
Get ready to rumble, China: The Ultimate Fighting Championship (UFC) is coming to the birthplace of martial arts.
UFC, the world's premier mixed martial arts organization, on Sunday announced in Las Vegas its inaugural live mainland event at Shanghai's Mercedes-Benz Arena on Nov 25.
Presented by General Tire, the show will give Chinese fans the opportunity to experience the highest level of MMA competition on a card packed with international and homegrown stars.
"We are always asked when the UFC will debut on the Chinese mainland," said Joe Carr, the organization's senior vice-president of international content.
"We are honored to confirm that Shanghai will be the site of our very first live mainland event, and to say we are excited is an understatement. The entire organization is looking forward to making history in China."
Owned and operated by parent company Zuffa, Las Vegas-based UFC is the largest MMA promoter in the world, with over 400 global events to its credit. On July 9, 2016, UFC was sold to a group led by WME|IMG for $4.2 billion. At the time, it marked the largest sports acquisition in history.
"We have been waiting for the right timing since we entered the market and we feel that the time is now!" said Kevin Chang, UFC vice-president for Asia-Pacific.
"When we started televising UFC in China several years ago, we had a smaller group of avid fans and general awareness and knowledge about MMA was still low. Over time our ratings and online viewership have grown tremendously, as has our social following.
"Shanghai is recognized not only as the center of Asia, but also has the attention of the entire world. We felt it was fitting to bring our first event on the Chinese mainland to Shanghai because it is a milestone achievement for the company, one that will garner media attention from all over the globe."
UFC established its Asia headquarters in Beijing in late 2010 (since moved to Singapore), and opened a Shanghai office last year. Fights are now broadcast across all media platforms in China, including Terrestrial TV (SMG, BTV, GDTV and others), IPTV (BesTV), OTT (PPTV), major streaming video sites (iQiyi, Youku, Alisports and others) and portals (Tencent, Sina)
The main event and full lineup for Fight Night Shanghai will be announced in September.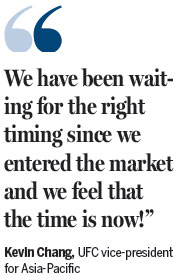 "WME/IMG China is delighted to present UFC - the world's most recognized MMA brand - to Chinese audiences this November," said Michael Ma, WME|IMG China CEO.
"MMA is developing rapidly in China and amassing a large fan base; this is an exciting first step to making the sport a mainstay here."
Ahead of the show, top UFC athletes will be on hand to meet and interact with fans in Shanghai and other cities. The first UFC fighter tour, featuring featherweight champion Max Holloway, will take place Aug 3 - 4. Fans can also expect a packed schedule during fight week, with appearances by guest fighters, community events and exclusive VIP experiences.
Thanks to Zhang Tiequan, considered China's first great MMA fighter, and now Li Jingliang, more Chinese have come to understand and appreciate UFC, albeit its relative newcomer status in China. Li and Wang Guan are currently on the UFC roster.
"We constantly focus on amplifying the voice of our fighters as they start to see success in the UFC," said Chang.
"In Li's case, he is achieving levels of recognition like no other Chinese fighter ever has, including blue chip sponsorship opportunities and crossover appearances.
"Li has emerged as a rising star, winning two of his last three fights by KO and garnering the Fight of the Night performance bonus in Singapore."
Chang said UFC is constantly looking to identify the best talent in China through its Fighter Development Program. The opportunity to train alongside some of the best fighters in the world, with top coaching and nutrition, gives them the head start they need to succeed.
"We are also encouraged to see the expansion of domestic MMA programs, such as Kunlun Fight and KO5, as they provide the foundation that hopefully someday will help their fighters compete in the UFC," added Chang.
"Every fighter needs to gain experience in domestic and regional competition before they can attempt to enter the UFC, so Kunlun and other promotions are outlets for that.
"We hope to see more and more UFC-caliber talent emerging in the near future," he added.
yangxinwei@chinadaily.com.cn
Homegrown talent set to test Octagon
Though still a newcomer on China's sports landscape, UFC will definitely step up its profile with Fight Night Shanghai in November. And two homegrown fighters, Wang Guan and Li Jingliang stand ready to make their contribution.
Signed to by UFC earlier this year, the 31-year-old Wang - aka 'The Dongbei Tiger' - has compiled a record of 19-1-1 and is considered one of the nation's most promising MMA competitors.

Fighting in the featherweight division, Wang has yet to make his Octagon debut but has high hopes of putting Chinese talent on the UFC map.
"I will continue to keep a clean record in the UFC, showing the world my 'China Power'," Wang said. "It's a dream come true, to have my ability approved by the UFC now. This also means the opponents I face next will be the best in the world. This will push me to train even harder".
Li - aka 'Leech' - fights out of Beijing and has a record of 13-4. At 29, the Xinjiang native spearheads the next wave of young Chinese talent. He is riding a three-fight winning streak, having beaten Dhiego Lima, Bobby Nash and most recently Frank Camacho.
It has been Li's long-time dream to compete on a UFC card in China. The young father has his eyes set on Fight Night Shanghai and hopes to be able to participate in the Octagon in front of a home crowd.
Most Popular
Highlights
What's Hot