Golds keep flowing for the dream team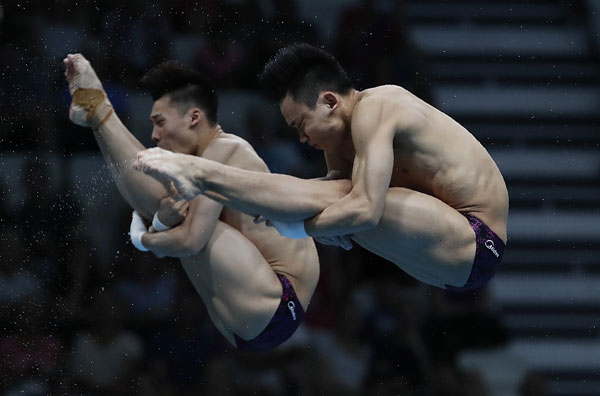 China's divers Chen Aisen and Yang Hao compete in men's 10m synchronized platform at the FINA World Championships in Budapest, Hungary, July 17, 2017. [Photo/VCG]
BUDAPEST - Fueled by Olympic champions Chen Aisen and Shi Tingmao, China's diving team clinched two more gold medals in synchronized events at the World Aquatics Championships on Monday.
Chen and Yang Hao won the men's 10m synchronized platform with 498.48 points, while Shi teamed with 15-year-old Chang Yani to capture gold in the women's 3m synchronized springboard with 333.30 points.
China's "dream team" has won five gold medals in seven events so far in Budapest.
Chen and Yang met little resistance from rivals as they maintained their leading position from the opening round to win by a margin of almost 40 points.
Aleksandr Bondar and Viktor Minibaev of Russia finished runners-up with 458.85 points while Patrick Hausding and Sascha Klein of Germany were third with 440.82.
Setting a target of finishing with over 500 points, Chen, who won Olympic gold with Lin Yue at the 2016 Games in Rio de Janeiro, said there is still room for improvement.
"We feel pretty satisfied with this result as it is our highest score as partners, but we can do better," he said.
It was Yang's second title at the world championships after taking the mixed 3m synchronized springboard with Wang Han two years ago in Kazan.
"This one has much more weight for me because it is the Olympic event, and we feel happy about it," said Yang.
Shi partnered with Wu Minxia to claim two world titles and Olympic gold in the 3m event in Rio.
Witnessed by retired Wu, who is serving as a TV commentator in the Hungarian capital, Shi and her teenage partner led from the opening round to clinch her third title in the event at the world championships.
"I want to compliment my partner. She is only 15 years old, but she is now a champion. It proves that we can work some magic," said Shi.
Chang, who regrouped from an early exit in the 1m springboard preliminary, found it a little stressful taking over from five-time Olympic champ Wu.
"I feel a little pressure, as it is just my first time at the worlds," Chang said.
The Canadian duo of Melissa Citrini Beaulieu and Jennifer Abel placed second with 323.43 points, while Kristina Ilinykh and Nadezhda Bazhina of Russia took the bronze with 312.60.
Italy provided a brief distraction from the Chinese dominance when Giorgio Minisini and Manila Flamini took the gold in synchronized swimming.
Minisini and Flamini won the mixed duet technical title with a total of 90.2979 points, edging Mikhaela Kalancha and Aleksandr Maltsev of Russia by just 0.034 of a point.
"Doing 90 in this competition is unbelievable ... we couldn't even think of such high scores," Minsini said.
The Italian pair impressed the judges with a choreography called A Scream from Lampedusa, created by Russian synchronized swimmer Anastasia Ermakova, and dedicated to the huge numbers of migrants arriving on the Italian island between Sicily and Tunisia every year.
Bill May and Kanako Spendlove claimed bronze for the United States' first medal of the championships.