Chinese divers frustrated in men's synchro 3m springboard at worlds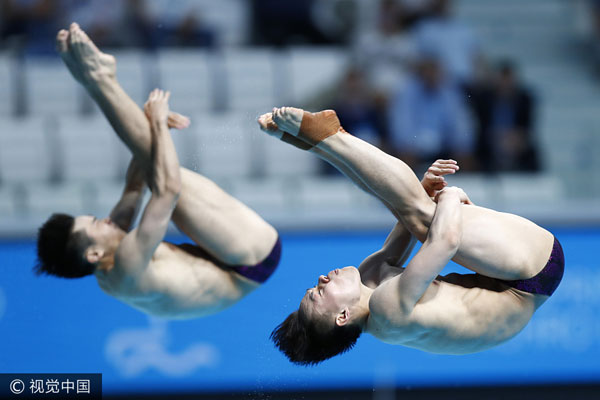 China's elite diver Cao Yuan and his new partner Xie Siyi compete in men's synchronized 3m springboard at the FINA World Championships in Budapest, Hungary, July 16, 2017. [Photo/VCG]
BUDAPEST - China's elite diver Cao Yuan and his new partner Xie Siyi missed the gold of the men's synchronized 3m springboard at the FINA World Championships here on Saturday, as they were overtaken by experienced Russian duo Ilia Zakhrov/Eugenia Kuznetsov in the final round.
Can and Xie came to Budapest after pairing up for seven month. They led the squad of 12 pairs in the final after five rounds, but only with an advantage of 4.5 points against London Olympic silver medallists Zakhrov and Kuznetsov.
The Russian pair then delivered a superb dive in the sixth and final round, clinching the title with a total score of 450.30 points. Cao and Xie took the second place in 443.40 points while Oleg Kolodiy/Ilya Kvasha from Ukraine finished third in 429.99 points.
"We did everything we could," said the 27-year-old Kuznetsov.
"We are still full of energy and could win more," added the 26-year-old Zakhrov.
Cao, 22, believed that he needed to practice more together with Xie. "We performed quite well during training, but we failed to show our real capacity this time," said the defending champion of the event.
Cao took his first world champion title two years ago in Kazan, as he won this event with seasoned diver Qin Kai. But the pair only managed to finish third at last year's Rio Olympic Games.
Olympic champions Jack Laugher/Chris Mears from Britain took the fourth place while Olympic silver medallists Sam Dorman/Mike Hixon from the United States had to be settled in the sixth place.
Earlier, Chinese teen divers Ren Qian/Lian Junjie clinched title of the mixed 10m platform synchronized event before Australian Maddison Keeney grabbed the gold in the women's 1m springboard final.
In synchronized swimming, Russia's Svetlana Kolesnichenko won the solo technical final in 95.2036 points.
Olympic bronze medallist Marc-Antoine Olivier of France won the men's 5km event in open water after he finished the race in 54 minutes and 31.40 seconds.