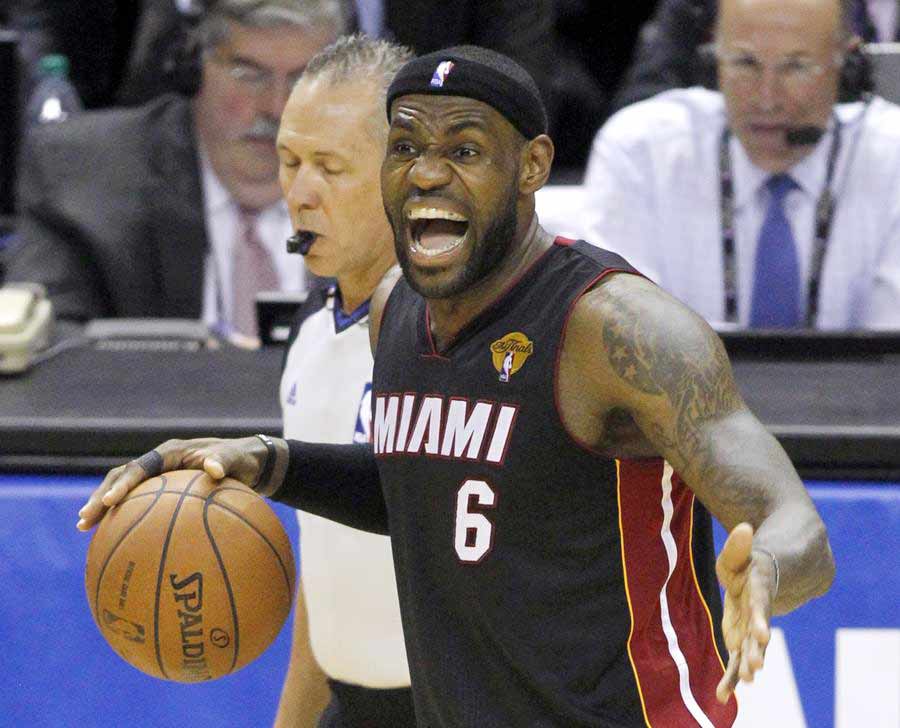 Miami Heat's LeBron James reacts during the fourth quarter against the San Antonio Spurs in Game 2 of their NBA Finals basketball series in San Antonio, Texas, June 8, 2014. [Photo/Agencies]
For a time, everything did. Then he switched to being a passer at the end, finding Bosh in the corner for the shot that made it 95-93.
Wade and Rashard Lewis each scored 14 points for the Heat, who also dropped Game 1 of the NBA Finals against Oklahoma City two years ago. They have won five straight series after dropping the opening game.
The Spurs were in good position, withstanding James' assault long enough to lead by one with under 2 minutes to play. But they were shut out from there until Manu Ginobili's 3-pointer as time expired.
"LeBron with the ball did a pretty good job at his end and we had to be really perfect at the other end and we didn't," Spurs coach Gregg Popovich said. "We didn't take advantage of things. We made bad decisions."
And it didn't help them that they had to deal with James at the end of this one.
Ginobili finished with 19 points for the Spurs, whose 18 points in the fourth quarter were half the 36 they scored in the opener.
"We have a very competitive group and you have two days to commiserate how that game went down," Heat coach Erik Spoelstra said. "It was frustrating, painful going through that for two days and now we have to manage the other emotion."
After their sensational finish to Game 1, the Spurs picked up right where they left off, making 10 of their first 15 shots. They opened an 11-point lead early in the second before James got going. He had three straight Miami baskets, and a follow shot later in the period gave the Heat their first lead at 34-33.