Del Potro warns he's hitting the heights
Juan Martin del Potro said he was playing even better than when he won the 2009 US Open after pushing Novak Djokovic to the limit in a gripping Shanghai Masters final.
The towering Argentine won this month's Japan Open and beat world No 1 Rafael Nadal in the Shanghai semifinals, before coming up just short in a third-set tie-breaker with Djokovic.
But the 1.98 meter del Potro has shown he is primed for another assault on the majors with three titles this year and two appearances in Masters finals.
"I think I'm playing even better than many years ago," the 25-year-old world No 5 said.
"I couldn't win a Grand Slam like I did in 2009 but I have reached finals in the Masters. I have already won three tournaments. I beat the top guys, which is fantastic for me," he said.
"I think I'm playing even better than 2009 or 2008 or last year. That's important. That's a good thing for the future. I still have the same goal, which is getting closer to the top guys. If I keep working like this, I hope I can be there one day."
Before Tokyo, del Potro won in Rotterdam and Washington and lost the Indian Wells final to Nadal. He beat world No 4 David Ferrer in the Wimbledon quarterfinals before losing to Djokovic in the semis.
In Shanghai, the stunning 6-2, 6-4 victory over Nadal - handing the Spaniard only his fifth defeat this year - qualified del Potro for the World Tour Finals in London.
He said he was still not quite in the same league as the quartet known as tennis's 'Big Four': Nadal, Djokovic, Andy Murray and Swiss great Roger Federer.
But del Potro, the only man other than that exalted quartet to win a Grand Slam title since 2005, is quietly confident he is not far away from their level.
"I think they are still the favorites for each tournament," he said. "But I believe in myself. I'm very confident. I'm very pleased with my level. I'm very honest with myself.
"I think if I'm healthy and if I play like today or yesterday I will have the chance to play in good battles like we did today."
Speaking after his semifinal defeat, Nadal said del Potro was one of the "biggest candidates" to win another Grand Slam.
Djokovic said there was no doubt about the Argentine's quality, but his biggest problem was his sheer size and staying injury-free.
"Since his first Grand Slam title in 2009, we all knew had the caliber to be a top tennis player and always a contender to win any Grand Slam he plays," said the world No 2.
"With his serve and his game, for his height, he moves extremely well. He uses the court very good. He has a very good anticipation. He's mentally really strong.
"For somebody his height, I think it's two or three times more physical effort to overcome these kind of matches. That is, I think, the biggest obstacle he has - to be able to stay fit throughout the whole year," Djokovic said.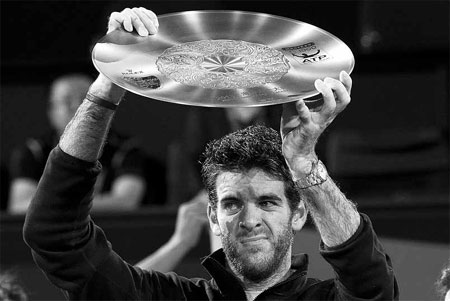 Juan Martin del Potro raises his trophy after losing to Novak Djokovic 6-1, 3-6, 7-6 (3) in the final of the Shanghai Masters at the Qizhong Forest Sports City Tennis Center on Sunday. Ng Han Guan / Associated Press
(China Daily 10/15/2013 page23)
<<!-- iscomment为1标示该文章可以评论 -->