Sox sting Tigers, level series 1-1

'Big Papi' hits grand slam to spark super Boston comeback
David Ortiz's line drive sailed just beyond Torii Hunter's reach and into the Boston bullpen, sending the Tigers right fielder flopping headfirst over the wall after it.
With one swing, the Red Sox slugger turned everything upside-down.
Ortiz's grand slam erased an eighth-inning deficit and ended Detroit's unprecedented run of pitching dominance, and Jonny Gomes scampered around the bases with the game-winning run in the ninth on Sunday night to give Boston a 6-5 victory over Detroit and knot the AL Championship Series at one game apiece.
"That's what he does. He's an amazing hitter," said Max Scherzer, who took a no-hitter and a 5-0 lead into the sixth inning but could only watch as the Detroit relievers blew it. "He's an amazing postseason hitter. He's clutch. Any given moment, a swing of the bat he can always take you deep."
One night after Anibal Sanchez and four relievers came within two outs of the first combined postseason no-hitter in history, Scherzer struck out 13 and held Boston hitless for 5 2/3 innings. But the Red Sox loaded the bases against three relievers in the eighth and then closer Joaquin Benoit came in to face Ortiz.
The Red Sox designated hitter lined the first pitch into the glove of the Red Sox bullpen catcher. Hunter went down hard and came out only after Detroit medical staff rushed out to assist him.
"I jumped up. I thought I had a beat on it," said Hunter, who came up in the Minnesota Twins organization with Ortiz and remains friends with the Red Sox slugger. "Next thing, I know I'm falling over the fence."
The fans waited until the trainers verified Hunter was OK to start chanting, "Papi!" and call Ortiz out of the dugout for a curtain call. It was the first career postseason grand slam for a star of the 2004 playoff run that ended in Boston's first World Series title in 86 years.
"The guy's an actor at work," Red Sox outfielder Shane Victorino said. "It's fun to watch. It's great to see. He's always upbeat and always positive. He always likes to go up and swing the bat. That's what he always wants to do."
Koji Uehara pitched a perfect ninth for the win.
Rick Porcello gave up a leadoff infield single that left Gomes at second when shortstop Jose Iglesias threw the ball into the Boston dugout. Jarrod Saltalamacchia hit a foul popup that glanced off first baseman Prince Fielder's glove when he got tangled up with a fan.
Gomes moved to third on a wild pitch, and then Saltalamacchia hit one through the drawn-in infield to drive in the game-winner.
"It's playoff baseball," Tigers manager Jim Leyland said. "Looked like we had one in hand and we let one get away, there's no question about that. But there have been two great games."
"We need it, man. We need start some momentum going on," Ortiz said. "The whole regular season, you haven't seen a team shutting us down for 14, 15 straight innings like they have the past couple of days. If you look at the way they've been pitching, (it's) unbelievable. It's up to us make an adjustment."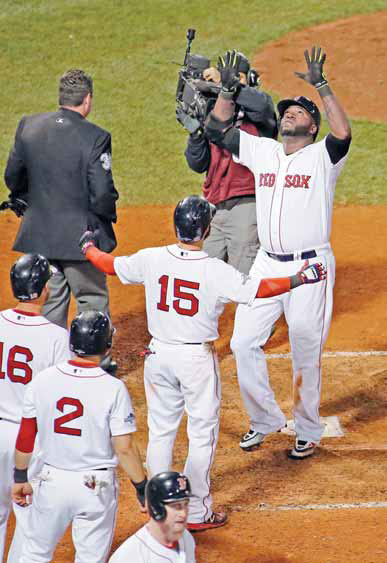 Boston Red Sox designated hitter David Ortiz (right) celebrates with teammates after hitting a grand slam during the eighth inning in Game 2 of the American League Championship Series against the Detroit Tigers at Fenway Park on Sunday. Greg M. Cooper/ USA Today Sports
(China Daily 10/15/2013 page24)
<<!-- iscomment为1标示该文章可以评论 -->