Williams beats Jankovic to win second China Open title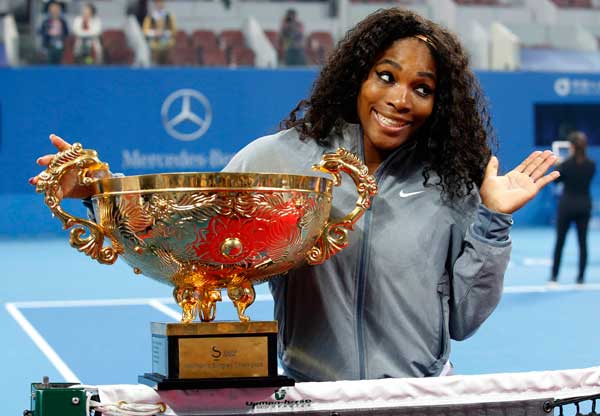 Serena Williams of the US reacts as she poses with the trophy after winning her women's singles final match against Jelena Jankovic of Serbia at the China Open tennis tournament in Beijing October 6, 2013. [Photo/Agencies]
BEIJING - World number one Serena Williams looked to be at about the peak of her game as the 32-year-old needed just one hour and 28 minutes to send eighth seed Jelena Jankovic crashing for her second China Open crown on Sunday.
Jankovic is one of the only two active players who has recorded four or more career wins over S. Williams, winning four times in their previous meetings. The other player is Serena's sister Venus Williams, who has 10 career wins over her.
But facing off an in-form Williams, the Serb proved she was still in a lower league, losing 6-2, 6-2 after being broken five times. The big-serving American also registered six aces throughout the final.
Williams won the inaugural China Open in 2004 while Jankovic was crowned the champion here in 2008.
<<!-- iscomment为1标示该文章可以评论 -->