World Cup trophy arrives in Costa Rica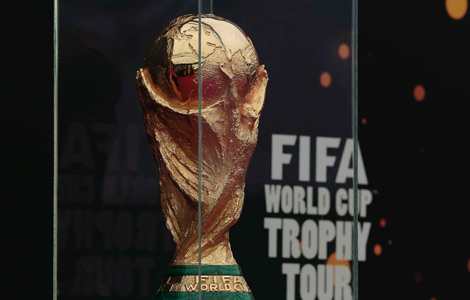 The FIFA World Cup trophy is displayed after its arrival at Juan Santamria airport in Alajuela September 27, 2013. The trophy will be displayed in Costa Rica as part of a world tour. [Photo/Agencies] 

SAN JOSE - The FIFA World Cup trophy arrived Friday in Costa Rica as part of its global tour in the lead-up to the 2014 games in Brazil.
Considered to be the world's most coveted prize, it arrived early Friday at the Juan Santamaria International Airport in the capital San Jose, where it was received by Costa Rica's Deputy Vice President Luis Liberman and a host of national athletes.
The cup arrived after traveling to Tahiti, Fiji and Vanuatu and will remain in Costa Rica three days before continuing its regional tour to members of the 34 football federations that comprise the Confederation of North American, Central American and Caribbean Football Associations (Concacaf).
The trophy will be placed over the weekend at a center, where thousands of fans will have the opportunity to get an up-close look at the famed prize.
The trophy's global tour will last nine months.
Costa Rica has qualified for next World Cup finals.
<<!-- iscomment为1标示该文章可以评论 -->