Li Na becomes 5th qualifier for Istanbul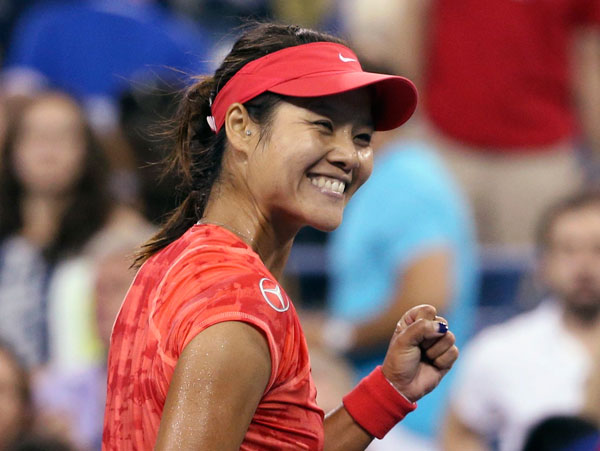 Li Na of China celebrates after defeating Jelena Jankovic of Serbia at the US Open tennis championships in New York, September 1, 2013. [Photo/Agencies]
ISTANBUL, Turkey - Li Na has qualified for the TEB BNP Paribas WTA Championships - Istanbul, to be held from October 22 to 27, 2013. She is the fifth player to qualify for the eight-woman singles event, following Serena Williams, Victoria Azarenka, Maria Sharapova and Agnieszka Radwanska.
The Top 8 singles players and Top 4 doubles teams will compete in Istanbul for a record-setting $6 million prize money purse and the most prestigious title on the WTA calendar after the Grand Slams.
"Congratulations to Li Na on securing her qualification for the TEB BNP Paribas WTA Championships - Istanbul for the third year in a row," Stacey Allaster, Chairman & CEO of the WTA, said of the 2011 French Open champion's qualification announcement. "Her personality and exciting brand of tennis endears her to tennis fans around the world, as Li continues to inspire generations tennis players."
"I'm so happy to have qualified again for the TEB BNP Paribas WTA Championships - Istanbul as one of the Top 8 players this season," Li said of the announcement. "I had a great time in Istanbul last year and I'm looking forward to coming back and playing my best tennis for the fans in Turkey."
Having finished 2011 at No 5 and 2012 at No 7, Li has had another fantastic season on the WTA, with some very strong performances at the Grand Slams (finals of the Australian Open, quarterfinals at Wimbledon and semifinals of the US Open) as well as winning her seventh WTA title in Shenzhen.
This is Li's third time playing the season finale, and all consecutive - 2011, 2012, and now 2013.
Following two successful, record-breaking editions, Istanbul hosts the WTA Championships for the third and final year in 2013. In 2012, the tournament attracted more than 73,000 fans during six days of competition, the highest attendance at the year-end event since 2000. Broadcast coverage reached 167 countries, and the overall hours produced increased 25 percent, including live matches, match replays and highlights. Nearly 42 million fans followed the on-court and behind-the-scenes action via WTA social media and digital platforms, and it was a record-setting week for the official WTA website that week, with approximately 4.8 million page impressions and nearly 500,000 unique visitors.
<<!-- iscomment为1标示该文章可以评论 -->