Guangzhou R&F, Chelsea open soccer school in S China
A joint soccer school between Chinese Super League club Guangzhou R&F and English Premier League giant Chelsea opened on Thursday in Meizhou, Guangdong province.
Zhang Li, chairman of R&F Properties, owner of the Guangzhou club, said the opening of the school will help develop young Chinese soccer stars in the near future as it has introduced technical training methods from the English side.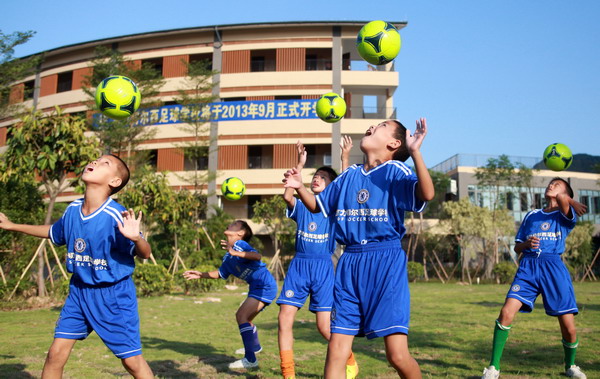 Boys demonstrate soccer skills at opening ceremony of the R&F Soccer School in Meizhou, Guangdong province, September 19, 2013. The school, a joint project between Chinese Super League club Guangzhou R&F and English Premier giant Chelsea, has enrolled 140 students aged 8-12 this year.The English club has sent a number of technical staff to help youth training at the school. [Qiu Quanlin/Asianewsphoto]
"We know that Chinese soccer development has lagged behind for many years due to insufficient young players. We are making joint efforts with Chelsea to develop young promising players, hoping that a rising number of Chinese future stars will go global from the school," said Zhang, after the school's opening ceremony.
Technical staff from Chelsea's youth training squad has selected 145 boys aged between 8-12 since April this year to study and train at the school. Most of the boys are from Meizhou, a traditional soccer base in China.
A number of former Chinese veteran players, including Li Huitang, Zeng Xuelin, Gu Guangming and Xie Yuxin, were born in Meizhou, in the eastern part of Guangdong.
The school, with an investment of up to 500 million yuan ($81.7 million) from R&F Properties, includes 13 training and playing fields that meet international standards.
Sven Eriksson, former England national team head coach and the current manager of Guangzhou R&F, was appointed the school's honorary president.
<<!-- iscomment为1标示该文章可以评论 -->