Venus Williams upsets Flipkens at US Open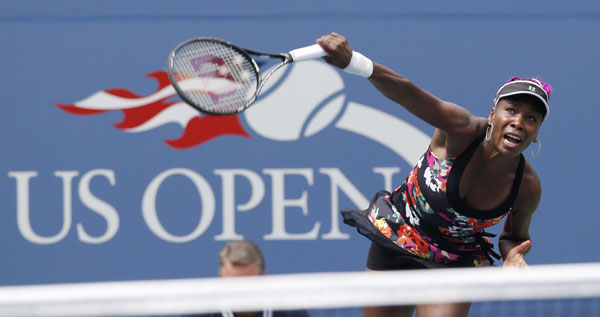 Venus Williams of the US serves to Kirsten Flipkens of Belgium at the US Open tennis championships in New York, August 26, 2013. [Photo/Agencies]
NEW YORK (AP) — Venus Williams had been 14-0 in the first round of the US Open, though she never had to face an opponent ranked in the top 30 at that stage.
Williams was usually the seeded player, but after two years of illness and injury, the seven-time major champion was the one pulling the upset Monday when she defeated Wimbledon semifinalist Kirsten Flipkens.
Her ranking down to No 60, Williams beat the 12th-seeded Flipkens 6-1, 6-2 for one of her biggest wins since she pulled out of this tournament two years ago because of Sjogren's syndrome, an autoimmune disease.
"For me, I stay positive because I know I can play great tennis," Williams said. "Sometimes you just have to go through more than what you want to go through. Sometimes you have to have losses. When I had losses, it always motivates me a lot to do better and to work harder."
The 33-year-old looked strong Monday, purple braids poking out of her visor that matched her floral dress. Williams fought off three break points at 2-2 in the second set in a game that went to six deuces.
Bothered by a lower back injury, Williams was playing just her third event since a first-round loss at the French Open. She hadn't defeated a top-20 opponent since last October.
"I realize that I haven't had a lot of chances to play this year or a lot of chances to play healthy this year, have had injuries and what have you," she said. "So I'm just going to have to keep working my way into it maybe more than some of the other players. But I know I can do that."
Flipkens, meanwhile, had been enjoying a career year. The Belgian had never reached the round of 16 at a major tournament before the Australian Open, then made her run at Wimbledon.
<<!-- iscomment为1标示该文章可以评论 -->