2nd Asian Youth Games kicks off in Nanjing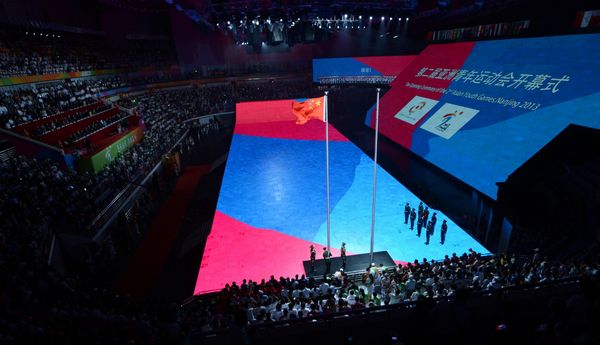 The 2nd Asian Youth Games kicks off in Nanjing, the capital city of East China's Jiangsu province, on Aug 16, 2013.[Photo/Xinhua]
NANJING - The future of Asian sports - over 2,400 athletes aged between 14 and 17 years - take the spotlight beginning Friday as the 2nd Asian Youth Games raised its curtain in Nanjing with an opening ceremony reminiscent of a video game.
Chinese vice premier Liu Yandong declared open the nine-day games themed 'Celebrating Youth, Passionate Asia', which will bring the athletes to 27 venues across the city by the Yangtse River to participate in 16 sports - diving, swimming, athletics, badminton, basketball, fencing, football, golf, handball, judo, rugby union, shooting, squash, table tennis, taikwando, tennis and weightlifting.
On a hot, sultry night, the opening ceremony at a packed gymnasium broke the trend of holding Chinese sports events ceremonies in a main stadium, creating more of a theatrical atmosphere than a parade on an athletics field.
"This is not just a games for sports, but a games for spreading knowledge among young people," said Liu Yi'an, vice president and secretary general of the organizing committee, before the games.
In the artistic performance, 320 young people, most of them high-school students from Nanjing, presented the audience with a story of children advancing to adulthood through the four seasons of the year, mirroring the art of vibrant videogames on a waved stage that represented the bridges of southern China; the Yangtse River waters and Nanjing cloud embroidery, a local handicraft.
The 40-minuite show, built with volunteers to a very frugal budget, was a mixture of a stage show and a party designed by teenagers with the help of directors, most of them under the age of 30.
The climax of the ceremony was the arrival of the Asian Youth Games torches at the stadium. The last six torchbearers approached the 2013 Asian Youth Games cauldron in pairs, one notable Chinese athlete alongside a Nanjing high schooler.
Liu Chang, the men's 73kg taekwondo champion at the 2010 Singapore Youth Olympics, ran with 16-year-old Wu You, a 10th grader of Nanjing who designed the Nanjing Asian Youth Games torch.
London Olympic women's team epee fencing champion Xu Anqi paired with Qiu Liyong, aged 16, a runner-up at the 2011 national middle school student basketball championship.
And the 2008 Olympic men's individual sabre fencing champion Zhong Man paired with Heng Yu, the 2011 champion at the national volleyball championship for teenagers under the age of 18.
Xu and Qiu touched the torch to the ring in the gymnasium, simultaneously lighting the cauldron outside.
Seven gold medals are up for grabs on the first day of action, including three in weightlifting and two in diving.
<<!-- iscomment为1标示该文章可以评论 -->