Murray, Djokovic on Cincinnati collision course
CINCINNATI - Novak Djokovic and Andy Murray set out on another collision course after the world's top two players strolled into the third round of the Western and Southern Open on Wednesday.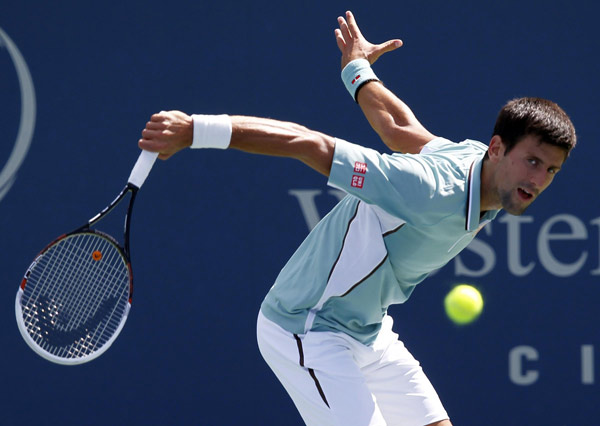 Novak Djokovic of Serbia hits a return to Juan Monaco of Argentina at the men's Cincinnati Open tennis tournament in Cincinnati, Ohio August 14, 2013. [Photo/Agencies]
Djokovic was all business on an unusually chilly afternoon on the outskirts of Cincinnati easing past Argentine Juan Monaco 7-5 6-2 while Murray got his North American hardcourt campaign back on track with a 6-2 6-3 dissection of Mikhail Youzhny.
"Between 4-1 and 4-5 (first set), four quite bad games for me," Djokovic told reporters. "I stopped moving my legs. I didn't really go for my shots.
"I let him kind of dictate the play and wait for his mistake, which was not the right tactics.
"But all in all, I expected a little bit of a challenge for myself especially because he's a good player but also because it's the first match here in Cincinnati, which has different conditions from what we played in Montreal."
Twice before, in 2008 and 2011, world number one Djokovic and number two Murray have met in the Cincinnati final with the Scot winning on both occasions.
But this year the big Serb, who has four runner-up finishes on the Ohio hardcourts, will be determined to be the last man standing and become the first player to complete what the ATP Tour has dubbed the 'Career Golden Masters' and win all nine World Tour Masters titles.
Murray and Djokovic have been making a habit of meeting when something big is on the line.
<<!-- iscomment为1标示该文章可以评论 -->