Li Ning stages comeback
Chinese sportswear firm holds positive outlook as excess inventory drops
Distressed Chinese sportswear maker Li Ning Co Ltd is on track for a turnaround as a three-year makeover plan initiated last year starts to pay off, company officials said.
Cash flow has improved, inventories have been pared and accounts receivable have fallen, amid a restructuring that focuses on improving distribution efficiency and brightening the company's brand image.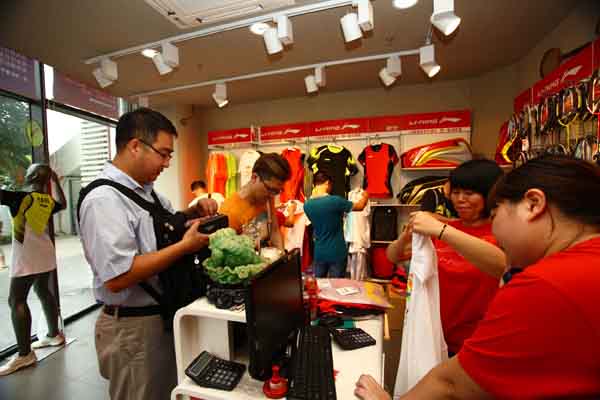 Li Ning Co Ltd's inventory turnover ratio fell to less than seven months from nine months at the end of 2011. Same-store sales at its direct-sale stores grew 9 percent in the first half. [Provided to China Daily]
Li Ning, which is backed by US private equity firm TPG Capital LP, expects its annual loss to narrow this year.
Kim Jin Goon, a partner at TPG who was hired as Li Ning's executive director and vice-chairman last year, said on Monday that the worst is behind the company and further benefits will emerge from money invested during the makeover.
"For the full year of 2013, we expect the company's operating cash flow will continue to improve, along with our distributors'profitability," Chairman Li Ning, an Olympic gymnastics legend, said in a statement.
Li Ning shares fell victim to profit-taking on Monday, sliding about 5.9 percent to HK$4.92 (63 US cents). The price was less than one-sixth of its 2010 peak of about HK$32.
Li said the company has no imminent need to raise funds to finance its transformation. In January 2012, TPG bought 561 million yuan ($91.8 million) of Li Ning's convertible debt. The bonds, if converted, would give TPG a stake of about 12 percent in the sportswear maker.
China's sports apparel market has been struggling as a result of inventory mismanagement and excessive expansion after the 2008 Beijing Olympics.
According to Bloomberg, the nation's six biggest sportswear companies opened a combined 12,300 stores between 2008 and 2011, an average of 11 per day, expecting higher demand after the Olympics. But the industry found that demand didn't keep pace with its growth.
Last week, ANTA Sports Products Ltd said first-half profit sank 18.7 percent and cash flow contracted by 34.6 percent.
Kim said although Li Ning's inventory position has improved, the industry's inventory level is still high on average, and more time is needed to resolve the problem.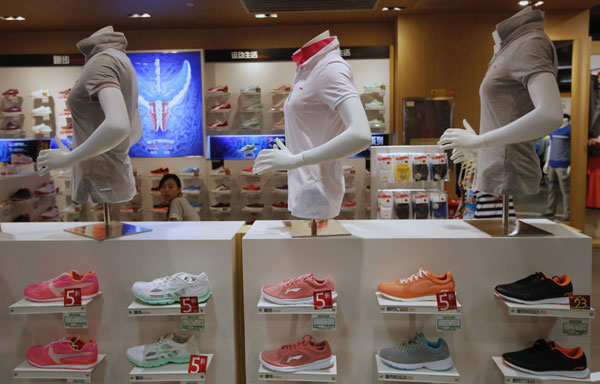 A woman is seen behind shelves displaying Li Ning shoes and shirts at a store in Beijing, Aug 6, 2013. Li Ning Co Ltd, China's best known sportswear firm backed by US private equity firm TPG Capital, on Aug 12 reported a smaller-than-expected first-half loss compared with a small profit in the same period a year ago as it was working to clean up inventory and restructure its operations. [Photo/Agencies]
Li Ning's first-half loss of 184 million yuan was less than expected. Three analysts surveyed by Thomson Reuters had forecast a 241 million yuan loss.
Excluding one-time spending on the makeover, the company reported earnings of 58 million yuan before interest, tax and amortization expenses.
The total number of stores was 6,024 as of June 30, compared with 8,255 at the end of 2011. Inventory levels dropped about 30 percent year-on-year.
The inventory turnover ratio fell to less than seven months from nine months at the end of 2011.
Same-store sales at its direct-sale stores grew 9 percent in the first half.
The partnership with National Basketball Association star Dwayne Wade has boosted brand recognition and product sales, the company said.
Wade-branded shoes will hit the United States market over the next few months. Li Ning also stepped up digital marketing this year to appeal to younger people.
<<!-- iscomment为1标示该文章可以评论 -->