Bayern to trim stellar cast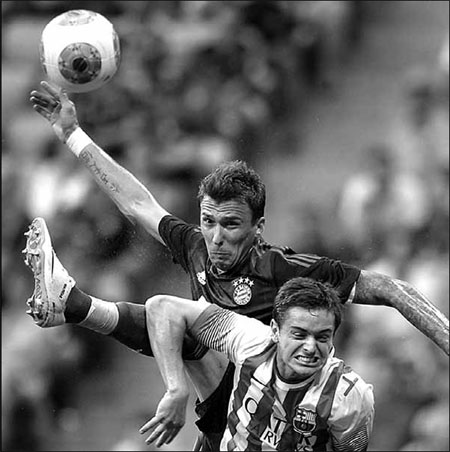 Bayern Munich striker Mario Mandzukic (back) and Barcelona defender Jordi Quintilla vie for the ball during the Uli Hoeness Cup friendly match in Munich on Wednesday. Munich won 2-0. Christof Stache / Agence France-Presse
Management facing tough calls in accommodating big names
Coach Pep Guardiola will sit down with director of sport Matthias Sammer and chairman Karl-Heinz Rummenigge about reducing Bayern Munich's star-studded squad after it plays Borussia Dortmund on Saturday in a repeat of the Champions League final.
Guardiola's Bayern enjoyed a 2-0 win at home to his former employer Barcelona in Wednesday's friendly, but the Spaniards played their first-team players only until the break.
Led by Argentina's Lionel Messi, Barcelona's stars played just the first 45 minutes as goals by captain Philipp Lahm and Croatia's Mario Mandzukic sealed the European champions' win in front of 71,137 fans.
With the Bundesliga just over two weeks away, Guardiola has some tough decisions to make as he attempts to accomodate a plethora of stars with 10 full international midfielders on his squad.
With Germany's Bastian Schweinsteiger and Mario Goetze returning from injury and Spain's Javi Martinez back from Confederations Cup duty, some of Bayern's stars will find themselves on the bench next season unless they find new clubs.
"We will talk about this after the Super Cup, we are still getting to know the players," said Guardiola, who played Germany winger Thomas Mueller as a lone striker against Barcelona.
Having signed Spain Under-21 captain Thiago Alcantara from Barcelona, Guardiola has said he is trying out new ideas.
But Brazil's Luiz Gustavo has been linked to 2009 German champion Wolfsburg, while Liverpool is reported to be interested in Swiss winger Xherdan Shaqiri.
"We have several players who can play in different positions, I like players who are flexible and can fit into different systems," said 42-year-old Guardiola.
"Toni Kroos has dropped into a defensive midfielder position, I am trying things out and want to test things in these friendly games."
Barcelona had something to prove on its first return to Munich since its 4-0 drubbing in April's Champions League semifinal, which the Germans backed up with a 3-0 win in Spain.
But with Gerardo Martino back in Spain, ahead of Friday's official unveiling as Barcelona's new coach, caretaker boss Jordi Roura had no qualms about blooding his entire bench of juniors at halftime.
Guardiola passed on his best wishes to his former assistant coach and successor Tito Vilanova, who stepped down following just one year at the Nou Camp helm to continue his battle against cancer.
"I want to wish Tito all the best and also Martino, they have chosen him because they feel he is the best man for the job and I wish him a lot of luck," said Guardiola, who won 14 titles in four years as Barcelona coach.
"Barcelona are one of the biggest clubs in Europe, it's a stable club, they have good players who work hard and good up-and-coming players, they will always be up there."
(China Daily 07/26/2013 page23)
<<!-- iscomment为1标示该文章可以评论 -->