Pedroia set to sign deal of a lifetime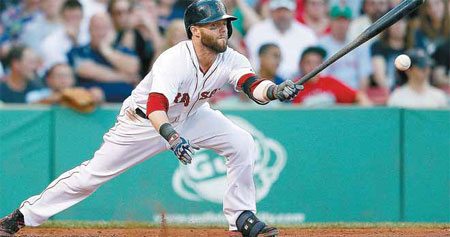 Dustin Pedroia of the Boston Red Sox follows through on an infield single against the San Diego Padres at Fenway Park in Boston earlier this month. Jim Rogash / Getty Images / AFP
Red Sox offer gritty shortstop $100 million over seven years
All-Star second baseman Dustin Pedroia is close to a contract that could keep him with the Boston Red Sox for his entire major league career.
A person with knowledge of the talks said on Tuesday Pedroia was in the process of agreeing to a deal worth $100 million over seven seasons, through 2021.
The person spoke on condition of anonymity because the agreement was not yet complete.
Pedroia is making $10 million this year and is guaranteed the same amount in 2014 as part of a $40.5 million, six-year contract that started in 2009. That deal includes an $11 million club option for 2015 with a $500,000 buyout.
The 1.73 meter, 75 kilogram sparkplug was the AL Rookie of the Year in 2007 and AL MVP in 2008.
It's important to Pedroia to finish his career in Boston. The deal would expire after he turns 38. "It's not official or anything, but, yeah, this is my home," he said before Tuesday night's game against the Tampa Bay Rays.
"I love being here. I love my teammates. I love the city. So if (the deal is finalized), I'll be pretty excited."
Pedroia is a big reason for Boston's success. The Red Sox began play on Tuesday with a half-game lead over the Rays in the AL East with a 60-41 record after winning just 69 games last season.
In 100 games through Monday, Pedroia was hitting .308 with six homers and 57 RBIs. He has made only two errors and missed just one game.
A new contract "is not going to change who I am or my role with this team", he said.
"My job is to still go out there and try to help us win a game every day and I'll try to do all I can to make that happen."
The 29-year-old was a backup on the AL All-Star team this season and entered the game after starter Robinson Cano was hit by a pitch.
Cano can become a free agent after this season, his ninth with the New York Yankees.
Pedroia might have received a better deal than the one that's close to agreement if he had become a free agent after the 2014 or 2015 seasons.
"I don't look at it like that," he said. "I want to be at a place where it's special to me and this place has been that."
And he doesn't expect a rich contract to change the way his teammates look at him.
"They still have to look down at me. I'm pretty short," Pedroia joked, "but it's a good feeling."
In 956 games through Monday, Pedroia had a .303 career batting average, 96 homers and 466 RBIs.
A second-round pick of the Red Sox in the 2004 amateur draft, Pedroia made his major league debut in August 2006.
He hit .191 in 31 games that season then had his breakout season in 2007 when Boston won its second World Series championship in three years. He hit .317 with eight homers and 50 RBIs.
"I love being here," Pedroia said. "I live and die by this team, and it's important to me to be here my whole time."
(China Daily 07/25/2013 page22)
<<!-- iscomment为1标示该文章可以评论 -->