Jagr makes deal with the Devils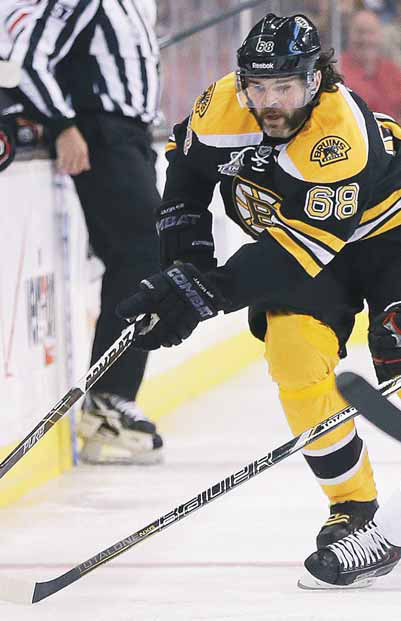 Jaromir Jagr, formerly of the Boston Bruins, finalized a one-year. $2-million contract with the New Jersey Devils on Wednesday. Jagr is the NHL's active leading scorer, with 1,688 points. Elise Amendola / Associated Press
Veteran sniper expected to help revive Jersey's anemic offense
The New Jersey Devils have replaced their best player with one of the NHL's greatest of all time.
Less than two weeks after the stunning defection of Ilya Kovalchuk back to Russia, the Devils have signed two-time Stanley Cup winner and former NHL MVP Jaromir Jagr to a one-year, $2 million contract .
There is no doubt the 41-year-old Jagr is in the twilight of his career, and he certainly will never fill the void left by Kovalchuk, who decided to retire from the NHL at 30 so he can play in his native Russia.
For now though, Jagr gives general manager Lou Lamoriello and the Devils a proven scorer who works hard up front and can improve the power- play.
"I watched him play the last couple of years and I have never seen someone work so hard," Lamoriello said.
"We know where he is in his career. He brings something. Everyone who has played with him the last couple of years and also the coaches have been complimentary toward everything he has done. There is no question he can help us on the power play.
"He is a well-conditioned athlete and we are happy with what he is going to bring."
Jagr split last season with the Dallas Stars and Boston Bruins, scoring a combined 16 goals and 19 assists in 45 games.
The NHL's active leading scorer added 10 assists in helping the Bruins reach the Stanley Cup final, but he did not score a postseason goal.
He signed with Dallas last summer and opened the season playing in Europe due to the NHL lockout.
The 16 regular-season goals would have led the Devils last season and his 35 points would have been one behind team leader Patrik Elias.
"He is still a top six forward," Lamoriello said.
Kovalchuk, who walked away from $77 million left on a contract that he signed in 2010, had 11 goals and 20 assists in a season limited to 37 games mostly by a shoulder injury.
Jagr had told his agent, Petr Svoboda, a former NHL defenseman, that he wanted to stay in the Eastern Conference.
"There was only one thing on my mind: I wanted to stay in the NHL," Jagr said, adding Russia's KHL was not an option.
Besides Kovalchuk, the Devils also lost forward David Clarkson to Toronto via free agency. Last summer, they lost captain Zach Parise to Minnesota in free agency after New Jersey advanced to the Stanley Cup final.
Lamoriello has tried to fill the holes up front, signing free-agent forwards Ryane Clowe and Michael Ryder away from the New York Rangers and Phoenix Coyotes, respectively.
He also re-signed Elias and fellow forward Dainius Zubrus and defenseman Marek Zidlcky.
On NHL draft day, June 30, New Jersey also acquired goaltender Cory Schneider from Vancouver.
"We like our team right now," Lamoriello said.
"Certainly our goaltending is improved. Our defense is improved because of the experience of the young guys and up front we are going to be a four-line team.
"We have power-play people and penalty killers. This will be one of the bigger teams we've had in size."
Jagr has 681 goals and 1,007 assists in 1,391 career regular-season games with Pittsburgh, Washington, the Rangers, Philadelphia, Dallas and Boston.
(China Daily 07/25/2013 page24)
<<!-- iscomment为1标示该文章可以评论 -->