'Spanish' Li defends crown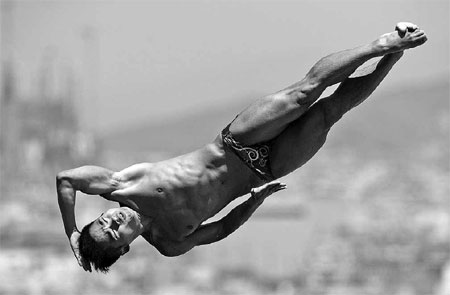 China's Li Shixin competes in the men's 1m springboard final at the world aquatics championships in Barcelona on Monday. He won the event on his final dive. Javier Soriano / Agence France-Presse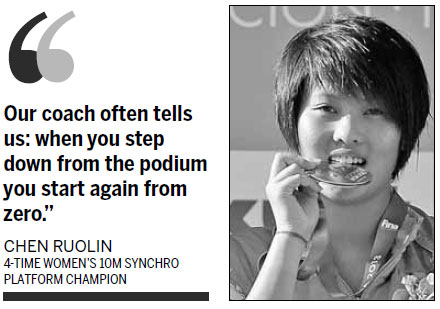 Not to be outdone, Chen Ruolin nails fourth straight synchro gold
China's Li Shixin drew inspiration from the spectacular hilltop setting to help secure his second consecutive men's 1m springboard title at the world championships in Barcelona on Monday.
The Montjuic pool affords stunning views over the Catalan capital and Li held his nerve through a tense battle to produce a superb final dive and extend Chinese domination in the event he won in Shanghai two years ago but which is not part of the Olympic program.
Ukraine's Illya Kvasha took silver, while Alejandro Chavez of Mexico sprang a surprise by pipping Li's teammate Sun Zhiyi for the bronze. It was the first time China had failed to win both gold and silver in four championships.
"When I was younger my coach showed me a video of this pool during the 1992 Olympic Games," said Li, who spends a lot of time in Spain and is known back home as 'the Spanish diver.'
"It was my dream to compete here and of course to dive well. I was a bit nervous until the fourth dive but then my coach told me to relax and I made my last two rounds with more confidence."
Li's gold was China's second of the championships after Wu Minxia won an unprecedented sixth 3m springboard synchro title on Saturday and diving's dominant nation secured its third later on Monday when Chen Ruolin swept to her fourth 10m synchro gold in a row.
Chen and Liu Huixia, her fourth teammate in four championships, amassed 356.28 points from their five dives, comfortably beating Canada's Meaghan Benfeito and Roseline Filion into second at 331.41.
Malaysia's Pandelela Rinong Pamg and Mun Yee Leong repeated their bronze medal from 2009 in third on 331.14.
Twice a double Olympic champion in the 10m individual and synchro (Beijing in 2008 and London last year), Chen said the secret to her success was simple, hard grind.
"Our coach often tells us: when you step down from the podium you start again from zero," she said.
"The experience is important but it is not enough to get a medal. You have to continue working hard.
"In 2007 when I got my first gold in this event with Jia Tong, we were a very new duet.
"Today, pairing with Liu is an entirely new experience. She is very young, but at the same time very strong and quite adaptable."
Second home
In the men's springboard, Li trailed for the first four rounds of the final before moving into the lead in the fifth round with an inward 2.5 somersaults.
He then bagged 87.45 points for his sixth and last dive, a forward 3.5 somersaults, the highest score of the final, to triumph by more than 26 points.
"The other competitors were very strong," Li said. "I was simply luckier today."
Li scored 460.95 points, with Kvasha on 434.30, Chavez 431.55 and Sun 425.05.
Things have not always gone Li's way since his victory in Shanghai and he said suggestions from some quarters that he should retire had proved premature.
"My coach and my team leader always supported me to continue," he said. "They were right! Today, their help paid off.
"Spain is a very special country for me. Since 2005, I came here seven times so this is almost a second home for me."
China has won seven out of 10 gold medals since the 1m springboard event was introduced in 1991. Canada's Alexandre Despatie was the last non-Chinese winner, in 2005.
(China Daily 07/24/2013 page23)
<<!-- iscomment为1标示该文章可以评论 -->