Robots fulfill China's soccer dream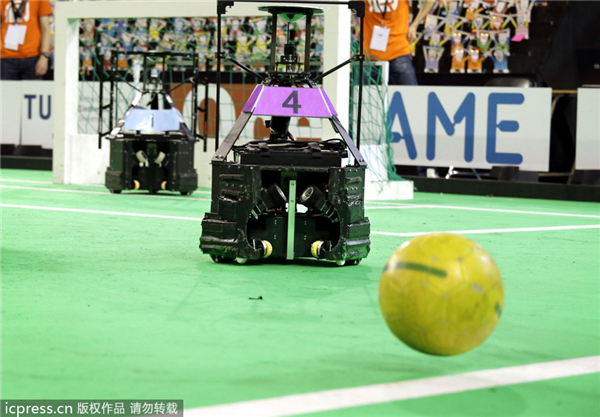 The Chinese robot-soccer team Water competes in the semi-finals of RoboCup, an international robot festival, in Eindhoven, the Netherlands, on June 30, 2013.[Photo/icicpress.cn]
The Chinese robot-soccer team won the final match of RoboCup, an international robot festival, triggering Chinese soccer fans to joke that their dreams for a world championship was finally realized by artificial intelligence.
The Chinese robot-soccer team Water, from the Beijing Information Science and Technology University (BITAC), claimed a 3-2 victory against the Dutch team Tech United, from Eindhoven, the Netherlands, on June 30, 2013.
Each team had five 80cm robots playing on a field 18 meters by 12 meters. The robots were equipped with sensors and built-in computers, so they could receive instructions from human players through the wireless communication system.
Most Popular
Highlights
What's Hot