Stealth key to security
Updated: 2011-10-05 08:09
(China Daily)
| | | | | | | | | | | |
| --- | --- | --- | --- | --- | --- | --- | --- | --- | --- | --- |
|   | | Comments() | | Print | | Mail | | Large Medium  Small | 分享按钮 | 0 |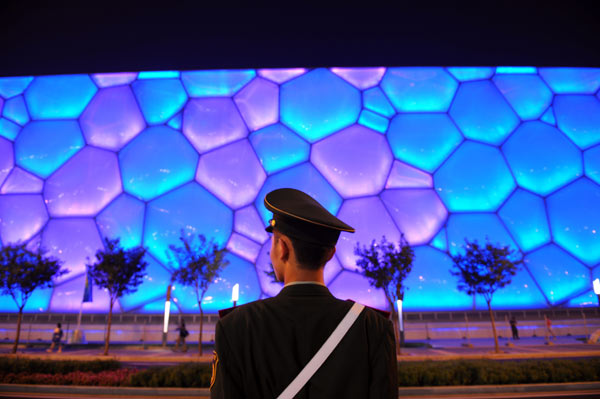 A security guard looks at the National Aquatics Center as he stands guard near the National Stadium, also know as the "Bird's Nest", in Beijing during the closing ceremony of the 2008 Beijing Olympic Games. [Photo/Agencies]
Bigger is not necessarily better when you are trying to protect players and fans at major events, an expert says
Major sports events like the Olympics and soccer World Cup should retain tight security to counter terrorist threats, but policing should be less visible and more flexible, a top international security expert said.
Security at the world's biggest sporting events has increased sharply since the Sept 11 attacks on New York in 2001, squeezing budgets by hundreds of millions of dollars.
"I think terror threats will always be a challenge for sports events organizers," said Helmut Spahn, former head of security for Germany's Bundesliga soccer league and the 2006 FIFA World Cup in Germany.
"Terror threats are something that have to be part of any planning for major events."
Spahn is now executive director of the Qatar-based International Center for Sport Security (ICSS).
The 2004 Athens Olympics, the first summer Games following the Sept 11 attacks, pumped more than a billion dollars into security arrangements, the highest ever paid until that point.
The figure for the Beijing 2008 Olympics is unclear, while the London 2012 Games have earmarked close to half a billion pounds for security next year.
"You need to offer as much as necessary, but it needs to be in design and planning and not just on the streets," said Spahn.
"It is the basic feeling to have a sense of security, but it is equally important not to exaggerate. Not to curtail the rights of those visiting. Not to have seven or eight controls and have 2-3 hours of travel time."
Background security
"You don't have to see security. It can operate in the background. Successful events will be those that have flexible plans, prepared for every scenario," Spahn said
London, which suffered its own bombing attacks only hours after being awarded the 2012 Games in July 2005, has an Olympic security budget of about 475 million pounds ($740 million), with a further 125 million pounds available.
British police estimate they will have about 12,000 officers on duty, while Games organizers say they will have between 10,000 and 15,000 private security guards.
Athens had about 75,000 police and military personnel working the Games.
"No doubt, London faces a global focus and, of course, possible terrorist threats are there. London with its heavy traffic will also be a challenge for organizers to ensure people can move around," Spahn said.
"But I feel they know these problems and have been working very hard on the right solutions."
The German, a former special police unit leader tackling kidnappings, terror threats and arms dealing, recently traveled to Brazil as the country prepares for the 2014 soccer World Cup and the 2016 Rio de Janeiro Olympics, the first to be staged by a South American country.
"Brazil's biggest challenge is infrastructure, building a transport system for fans to access the various venues. That is crucial given the variety of events and the Olympic Games in Rio has different challenges than the World Cup," he said.
Unified system
"The Olympic Games will be hosted in Rio, one city, and the World Cup is spread across the country. There are some locations for the World Cup that are not really that easy or problem-free to access," Spahn said.
"Brazil has ... a similar setup to Germany, with a number of states and each state having its own police force. It is important to bring all these police forces to one table to have a unified policing system for the event.
"A fan traveling to Rio must find the same security in Sao Paolo."
The ICSS will also be closely involved with security preparations for the Qatar 2022 World Cup, the first major sports event to be hosted in the Arab world.
Spahn said while visitors to the Qatar World Cup would have to cover short distances given the small size of the country, this also provided added security challenges.
"Qatar will benefit from short travel times, and at the 2022 World Cup you really have the chance to see three games in a day because of the short travel times," Spahn said.
"It is concentrated, all teams in a smaller area. Fans are in a smaller area. Clearly this is different to bigger countries where fan groups that could potentially cause problems are isolated and kept 500 or 800 kilometers apart."
"The security concept will have to be different than in larger countries like Brazil or (2018 World Cup hosts) Russia."
Reuters