GOTHENBURG, Sweden - Germany's Aliona Savchenko and Robin Szolkowy rallied from a spectacular joint fall to score the top mark in the free skate and win the pairs event at the figure skating world championships on Wednesday.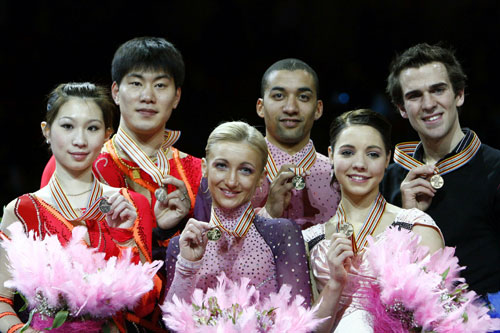 Figure skaters (L-R) Zhang Dan and Zhang Hao of China, Aliona Savchenko and Robin Szolkowy of Germany and Jessica Dube and Bryce Davison of Canada pose with their medals on the podium after winning pairs free skating programme at the World Figure Skating Championships in Gothenburg March 19, 2008. [Agencies]
The European champions, who trailed China's Dan Zhang and Hao Zhang after Tuesday's short programme, both took a tumble in their side-by-side triple Salchow early on in the free skate routine, but the pair regained their composure to triumph.
"Tonight, I don't know what to say, I'm so happy," Szolkowy told reporters. "It was a hard way to get here and make a performance like this. It wasn't perfect, but in the end it was enough."
The pair paid tribute to the enthusiastic crowd.
"A really big thanks to audience. We've had so much fun skating here. I think the last two points were because of you," Salkowy added.
Skating to the Cirque du Soleil's L'Oiseau, the Germans finished with 202.86 points.
Dan and Hao showed their class with astonishingly high throws but could not reproduce the faultless form they showed in Tuesday's short programme as Dan miscued her landing on the pair's side-by-side triple Salchow.
"We made mistakes on two of our jumps, we really regret that we were not able to skate our best tonight," Dan said.
They ranked third in the free skate for a two-day total of 197.82 points to finish second overall.
Canadians Jessica Dube and Bryce Davison finished third, on 192.78, with a clean and elegant performance. It was their first world championship podium finish.