CHICAGO - Kobe Bryant didn't get an earful of "Ko-be!" "Ko-be!" Ko-be!" in his first visit to the Windy City since his trade demand last offseason. But the Lakers' star did hear some recruiting pitches from the local fans.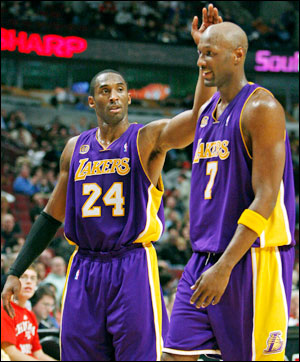 Kobe Bryant (left) is getting plenty of help from Lamar Odom and the rest of the Lakers, who have shown surprising depth this year. [Agencies] 
"A couple people offered their houses for sale," Bryant said Tuesday night, referring to rumors early last month that he was looking into buying Michael Jordan's home in case a trade to the Bulls went through.
"I told 'em Michael's was a little better."
Bryant can joke about it now, of course. The Lakers are winning. Thanks in part to another fine effort from Bryant -- who shook off a groin injury to score 18 points and come up with three huge steals down the stretch -- the Lakers downed the Bulls 103-91 for their eighth win in 11 games.
Suddenly the Lakers' record is 15-9, fourth best in the West, and the talk about Kobe being traded to Chicago -- or anywhere else -- has faded away like one of his corkscrew jumpers.
Bryant seems more than content -- at least for now -- with his situation in L.A. Lamar Odom, Luke Walton, Derek Fisher and, yes, even Andrew Bynum, all have been more than solid. The reserve corps of Jordan Farmar, Vladimir Radmanovic, Sasha Vujacic, Trevor Ariza and Ronny Turiaf has been a huge surprise.
"We're playing extremely well," Bryant said. "When we have games like we had tonight, where everything's balanced and everyone's contributing and playing well, it makes the game extremely fun."
That's not to say the Bryant saga can be declared officially dead. Even Tuesday night, there were some strange vibes in the air. Maybe it was just a case of Chicago Hope, or a reminder that he can opt out of his contract and become a free agent in 2009 -- but it was almost as if Bryant wanted to keep one Nike in the Windy City door just in case.
It began before the game when Lakers coach Phil Jackson said he expected Bryant to have some emotions about playing in front of the Chicago crowd.
"I'm sure he wants to do well," Jackson said. "He's got Chicago fever a little bit. He actually had a desire to be here; we tried to fulfill that, but it didn't work out. So there's something there."
Moments later, Bryant plopped down in front of his locker and did nothing to end the notion of a potential future romance with the Bulls.
After playfully deflecting a question about why he had Chicago high on his list ("Pizza," he said. "Deep-dish pizza."), he quickly warmed to the subject. He admitted Chicago was his first choice ("No. 1 with a bullet") and that he had heard about the United Center fans chanting his name during games last month when the Bulls were struggling.
"A couple of my friends played against Bulls when that took place," he said. "They called me after the game and said they heard something that was just the craziest thing. I was shocked by it."
But while Bryant might have sounded a bit wistful about what might have been, he made it clear he is happy with his current teammates and the Lakers' prospects.
So far the Lakers have defeated the Suns, Jazz, Pistons, Spurs (without Tim Duncan and Tony Parker), Warriors and Nuggets (twice). They rank third in the NBA in scoring (107 points a game), fifth in shooting (47.1 percent) and third in field-goal-percentage defense (43.8). Their bench -- once the source of Bryant's frustration -- has been a "difference-maker," according to Jackson.
"I'm having a great time," Bryant said. "We're playing well. We're enjoying each other's company, and that makes it that much more fun."
Again, maybe it's only temporary. Maybe the Bryant soap opera will flare up again, next week or next month or next summer -- or when the writer's strike ends and there's somebody available in Hollywood to pen another chapter.
But for now, Bryant is staying -- and Jordan is going to have to find a different buyer for his house.