NEW YORK - New York Knicks fans angry over the team's losing streak rallied outside Madison Square Garden on Wednesday, holding aloft a giant pink slip and calling on Garden management to fire coach Isiah Thomas.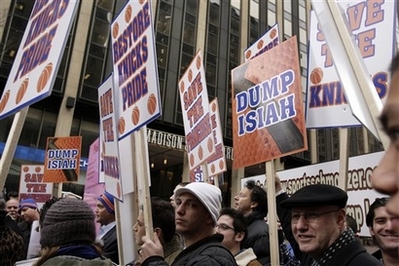 New York Knicks' fans hold signs in front of Madison Square Garden in New York, Wednesday, Dec. 19, 2007. The fans gathered outside the Garden to urge Garden chairman James L. Dolan to fire head coach Isiah Thomas, whose Knicks are 7-17 going into Wednesday night's game with Cleveland. [Agencies] 
Chanting "Fire Isiah! He's got to go! Good-bye!", two dozen irate fans signed the 8-by-4-foot pink placard urging Garden chief executive James L. Dolan to dump the coach, whose team is 7-17 going into Wednesday night's game with Cleveland.
Among the protesters was noted civil rights lawyer and longtime Knicks fan Norman Siegel, who criticized Knicks management for ordering a fan with a "Fire Isiah" sign to leave his seat at a game Monday night.
"The Knicks are trampling on what New York is all about - we're outspoken and we're zany at times," said Siegel. "But principles and values of free speech should be adopted. The Garden should rethink its policy."
Thomas has been hounded by bad publicity and calls from fans to quit since October, when fired team executive Anucha Browne Sanders won a sexual harassment lawsuit against the coach and the Garden. Just before the case was to return to court to decide compensatory damages, the lawsuit was settled for $11.5 million.