The Ministry of Finance has pledged to adopt a prudent fiscal policy to help cool the economy and prevent excessive price rises.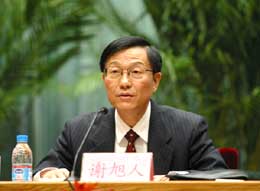 Xie Xuren
The authorities will also make efforts to improve people's well-being by supporting such sectors as social security, health, education and housing, Xie Xuren, minister of finance, told a meeting Wednesday in Beijing.
The country will "properly" reduce the budget deficit, he said. Last year, the central government deficit was 274.9 billion yuan ($37.3 billion), or 1.37 percent of gross domestic product. It is budgeted to drop to 1.1 percent this year.
The issuance of long-term construction bonds will be cut, which will help the central government's drive to prevent the economy from overheating and rising prices from evolving into entrenched inflation - a platform hammered out at the Central Economic Work Conference held earlier this month, Xie told heads of the nation's local fiscal departments.
The government started to issue long-term construction bonds, or bonds for large-scale infrastructure projects, in the wake of the 1997-98 Asian financial crisis to sustain economic growth.
But with the economy growing briskly in recent years - and even facing the risk of overheating - the central government has gradually cut the scale of such bonds to avoid jazzing up already-fast investment growth.
As a result, the issuance of such bonds has been cut from 150 billion yuan ($20.4 billion) in 2002 to 60 billion yuan ($8.1 billion) last year.
Xie vowed to further use fiscal policy to stabilize rising prices.
"(We) will actively support production of agricultural products such as grain, edible oil and meat, and ensure the supply of basic daily necessities to curb excessive price rises."
Subsidies will be extended to those hit hard by rising prices timely, he added.
The consumer price index, a key gauge of inflation, rose to a decade high of 6.9 percent in November, the fourth consecutive month when it exceeded 6 percent.
Xie said more funds would be pumped into the health sector, and the rural cooperative medical insurance system, which now covers 730 million farmers in 86 percent of all counties nationwide, would be expanded.
In the first 11 months, the central and local fiscal expenditure on health amounted to 142 billion yuan ($19.3 billion), up 40.6 percent year on year, Xie said.
Fiscal revenue grew by 33.5 percent year-on-year in the first 11 months to reach 4.8 trillion yuan ($651 billion) and is expected to hit 5.1 trillion yuan ($689 billion) for the whole year, 31 percent more than in 2006, the finance minister said.
Expenditure in education increased by 32.7 percent during the January-November period, while social security and employment expenditure grew by 28.6 percent.