Chinese Basketball Association (CBA) clubs will have to guarantee their television coverage before being allowed into next season's league, officials said yesterday.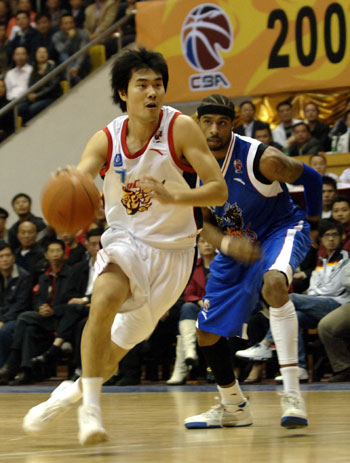 Guangdong Tigers' Wang Shipeng dribbles the ball during the Chinese Basketball Association (CBA) game against Jiangsu Dahua on November 28, 2007 in Guangzhou. Guangdong won 127-91. [Xinhua] 
The 17-team professional league has seen a sharp fall in TV coverage since Yi Jianlian left to play in the Unites States. In fact, local television stations denied broadcasting opportunities to six CBA clubs, reportedly due to low audience ratings and limited marketing chances, depriving fans of the chance to watch their home teams.
"We are very likely to change the league's entry standards, and let them guarantee the coverage at least," said Hao Guohua, director of the CBA's managing office. "We will have some specific regulations for the bottom-ranked clubs and try to help improve their living conditions."
Fujian Xunxing, Shaanxi Dongsheng, Yunnan Honghe, Shanxi Zhongyu and two Zhejiang teams, Horses and Guangsha, all failed to reach any agreement with local television stations this year, and Jilin Tonggang will only have one of its home games broadcast.
Unlike in the US, where television stations pay for the rights to broadcast National Basketball Association (NBA) games, CBA teams - as state media report - have to pay local TV stations if they want coverage of their games.
According to sina.com, Fujian Sports Channel charged 300,000 yuan ($40,540) for live coverage of home and away games last year. That amount doubled this season, and only one live game is guaranteed each week.
And despite the comeback of four-time CBA Most Valuable Player Liu Yudong, the Fujian side has yet to cause any stir within its fan base this year.
"It is a very embarrassing situation," said Hao. "As the governing body of the sport in China, we cannot help. The charge is very high for clubs, and I can tell you all we can do is just try to negotiate with clubs and television stations (for better deals)."
The 2007-08 CBA season tipped off last month. The league has spent the last 13 years cultivating its Chinese fan base as it has produced international stars like Yi and Yao Ming.
The pinnacle of TV-viewing came in 2005 when a total of 315 million people watched CBA games on television. The average is 79.15 percent of that figure, meaning approximately 250 million people watch CBA games in a typical season, according to Infront, a Swiss-based sports management group, which manages the CBA.
But with the Olympics looming, officials have decided to shorten the new season by about three months, compressing it into a four-month schedule to give more time to the national team to practice for the Olympics.
China's Central Television (CCTV) will broadcast 96 NBA games this season. The match between Yao's Houston Rockets and Yi's Milwaukee Bucks last month drew some 200 million viewers from around the country.
By contrast, there are only 41 CBA games broadcast on CCTV this season, and games are frequently cut short due to gymnastics and table-tennis competitions.
"I think the only way (to change the situation) is to enhance the quality of our league," said Hao.
CBA chief Li Yuanwei felt the same way.
"I am not concerned that fans will only watch the NBA," Li said during the NBA China Games in Shanghai last month. "The CBA is open to all the cooperation from around the world, not only from the United States, but also from European countries.
"McDonald's has been in China for quite a long time, but there is still a lot people who love Shanghai cuisine."