NEW YORK - LeBron James provided the spark in overtime to lift the Cleveland Cavaliers to a 109-104 home win over Boston on Tuesday, just the Celtics' second loss of the season.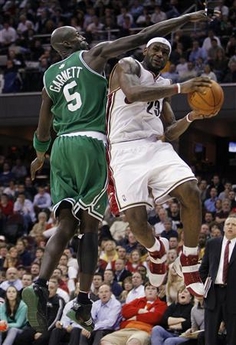 Cleveland Cavaliers LeBron James (R) puts up a shot around the defense of Boston Celtics Kevin Garnett in the second half of their NBA basketball game in Cleveland November 27, 2007. [Agencies] 
James scored 11 of his 38 points in overtime and tallied 13 assists as the Cavs won their third in a row and dropped the Celtics to 11-2 on the season.
"It's definitely a big win," James said after the first meeting between the teams in a span of six days. "We were down and we were up and we found a way to win, so it was big."
But James was not getting carried away with the win over the red-hot Celtics.
"We just want to get wins and continue to win," he said. "It's November and there are no statement wins in November."
Boston's Ray Allen scored 29 points but missed two free throws with 23.1 seconds remaining in regulation with the game tied.
James missed a chance to win in regulation but took over in the extra five minutes.
"He was great, he was fantastic," said Boston coach Doc Rivers. "He made big shots and that's who he is. He's just a fantastic player."
Drew Gooden was 8-for-8 from the field in the third quarter and finished with a season-high 24 points for Cleveland, while Zydrunas Igauskas had 15 points and 14 rebounds.
Kevin Garnett scored 19 points and Paul Pierce 16 for the Celtics, who host the Cavaliers on Sunday.
*Pau Gasol scored 22 points and the visiting Memphis Grizzlies overcame 32 points by Vince Carter and the 91st career triple double by Jason Kidd to beat the New Jersey Nets 110-103.     *The Philadelphia 76ers ended the Milwaukee Bucks' five-game winning streak as Samuel Dalembert had 22 points and eight rebounds and Andre Iguodala posted 20 points and 11 assists in a 114-99 victory.
*Kobe Bryant scored 35 points to lead the Los Angeles Lakers to a 106-99 home win over the Seattle SuperSonics, ending the Lakers' three-game losing streak and handing Seattle its fifth defeat in a row.