MOSCOW - Russia manager Guus Hiddink remains optimistic about signing a new contract despite reports that his agent was unhappy with the negotiation process.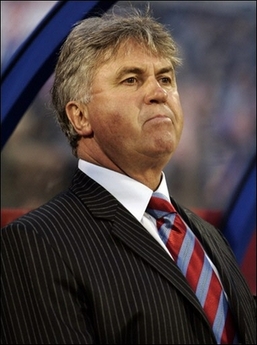 Russia are celebrating their qualification for the Euro 2008 finals, praising Croatia's glittering performance at Wembley and Russia manager Guus Hiddink, seen here in June 2007. [Agencies] 
Hiddink's agent Cees van Nieuwenhuizen on Tuesday accused Russian FA chief Vitaly Mutko of stalling tactics.
"I don't see the situation as normal. It's strange to say the least," Van Nieuwenhuizen was quoted as saying by the Sovietsky Sport newspaper. "It was Mr Mutko who said he wanted Guus to stay as Russia coach but he has done nothing since.
"I've helped Guus in signing many different contracts with various soccer federations but I've never been in a situation like this before," van Nieuwenhuizen said.
"I've e-mailed them several letters but did not get any response. If they don't want Hiddink as their coach, they should say so and find someone else," he added.
However, Hiddink, who guided Russia to the Euro 2008 finals from a tough group that included Croatia and England, said he was hoping to sign a new contract in the near future.
"There's no change in my plans," he told Reuters in a telephone interview from the Netherlands on Tuesday.
"We shook hands with Mutko just before the England game. I've given him my word and I've always kept my word," said the Dutchman, who last month agreed in principle to extend his deal until 2010, ending speculation that he would coach elsewhere.
"We just need to work out some minor details and it's for the lawyers from both sides to sort it out," added Hiddink.
"As far as I'm concerned, I'm already making plans for next year, for the Euro finals. There's a lot of exciting work ahead of us. I'm looking forward to it."
The Russian FA issued a statement on their Web site (www.rfs.ru) on Tuesday, saying they were involved in negotiations with Hiddink and his lawyers over the new contract.
Van Nieuwenhuizen said several countries, including England, had expressed interest in hiring the highly successful Dutchman, who led the Netherlands and South Korea to the World Cup semi-finals in 1998 and 2002 respectively.
"I was told Hiddink is on their (England) list," he said.
England are looking for a new manager after sacking Steve McClaren following their failure to qualify for the Euro 2008 finals.