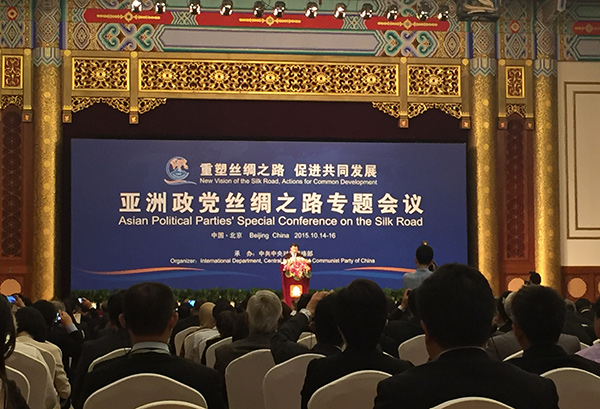 Chinese Vice President Li Yuanchao speaks at the closing ceremony of the Asian Political Parties' Special Conference on Silk Road in Beijing on Oct 16, 2015. [Photo by Zhang Xiang/chinadaily.com.cn]
Political parties from Asian countries and along the Belt and Road adopted Beijing Initiative on a special conference on Silk Road in the capital on Friday.
The document was announced as the Asian Political Parties' Special Conference on Silk Road concluded in Beijing. More than 60 political delegates from over 30 countries on four continents attended the conference.
Leaders and representatives attending the conference believe that this Initiative offers a new opportunity for countries along the Silk Road to attain common development on the basis of mutual benefit and brings new hope for countries to overcome temporary difficulties, according to the document.
"The Beijing Initiative reflects the confidence and determination of the countries along the Belt and Road to pass on the Silk Road Spirit, and clarifies the future goals and measures for political parties to strengthen cooperation and seek common development," said Chinese Vice-President Li Yuanchao in the closing remarks of the conference.
He called on political parties, industrial and commercial circles as well as media organizations to make joint efforts to push forward construction of the Belt and Road.
The document says countries need to promptly remove the hurdles of a generally insufficient connectivity of infrastructure and suggests that free trade zones be built for acceleration of the integration of regional economies.
It also proposes a regional financial cooperation system be built, bilateral and multilateral platforms of financial cooperation be created with practical cooperation in currency stabilization, financing, investment and credit-rating be realized.
The special conference is held within the framework of the International Conference of Asian Political Parties, a multilateral forum for major political parties of Asian countries launched in 2000.
It includes discussions on regional economic cooperation, dialogues between media agencies as well as business representatives and three panels with respective topics of "Political Leadership: New Consensus for Political Parties," "People-to-People Bonds: New Dialogue between Civilizations," and "Economic Integration: New Impetus for Development."