From Anastasia Sukhoretskaya, in Tatarstan, Russia
Tatarstan – two cultures one world
Russia and China are bound by history. It is not a rare thing to meet a Chinese, especially an old one or in their middle ages, who can say at least a few words in Russian. There are those who can even sing old Russian songs for you. According to my Chinese friends, people from China like travelling in Russia because of its intact nature and not a dense population, so literally few people and fresh air compared to China. Russia is a very unique country, that preserves its own culture typical only for Russia. It is also an immense element in the Silk Road. Russia boasts the biggest territory in the world, with more than 50% of it occupied by Siberia. According to the statistics, there are more than 190 ethnic groups with the majority being represented by Russian ethnic group coming up to 77.7% (2010), Tatar 3.7%, Ukrainian, Bashkir and so on. The only official language on this huge territory is Russian though in some regions two official languages are declared. Russia is rich in natural resources, with oil and gas comprising the big chunk of Russian economy. Moscow is the capital, and at the same time the most important Russian megapolis being its financial, political, cultural, educational and touristic hub.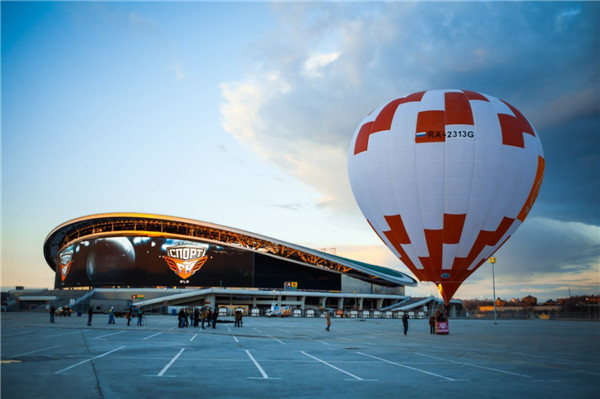 [Photo by Anastasia Sukhoretskaya]
Tatarstan Republic is one of the Russian regions, and a peculiar place. Tatarstan as well is very rich in gas and oil, have a lot of factories with Gorky factory that builds ships not only for Russia but also for other countries. Tatarstan stands 800 km from Moscow and the transportation between two regions is very convenient.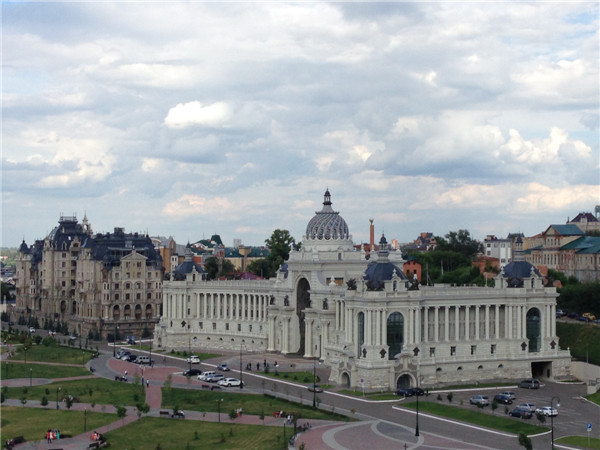 [Photo by Anastasia Sukhoretskaya]
One of the reasons why Tatarstan is a very distinctive place is that it encompasses two cultures – western and oriental. Located in the European part of Russia, it enjoys the best of both worlds. Surprisingly enough, the two culture are weaved into each other so that there is no place for the conflict. Two different religions – Muslim and Christian, two different languages – Tatar and Russian, two different nationalities – Russian and Tatar coexist in harmony. The capital city is Kazan, one of Russia's largest cities with population of over one million people. In Tatarstan there are two official languages – Russian and Tatar, so when on the subway or on the bus the stops are announced in two languages. Interesting enough, even though everyone is required to speak Russian, Tatar language is vastly spoken and introduced into the school program so that every person should learn it notwithstanding the ethnic differences. Tatarstan has a ling history. Once it didn't belong to Russia, and started to be its part only after Ivan the Great besieged and conquered it. There is even a beautiful legend telling about the princess Suumbike whom Ivan the Great wanted to have as a wife. Suumbike was reluctant to part with her culture and people, and she gave Ivvan the Great an order to erect a tower in seven days. The wish was fulfilled and the tower built. After that the princess climbed the highest point of the tower and jumped down. Since then the tower became known as Suumbike tower. Kazan has its Kremlin preserved by UNESCO. Kazan is a paradise for those who can't imagine their life without some cultural events. There are theatres, that stage plays both in Russian and Tatar, conservatories, museums and so on. In 2009 Kazan was granted the title "The Third Capital"of Russia, apart from that Kazan is also "Sports capital of Russia"since the world famous football team "Rubin"and hockey team "Ak Bars"originated here. The city hosted the 2013 Summer Universiade, 2014 Fencing Championships, 2015 FINA World Championships and in 2018 will host FIFA World Cup. Apart from that, Kazan is also the students' city as there are a number of higher institutions along with the Russia's third oldest university – Kazan Federal University that served alma mater for such well-known figures as Lenin and Tolstoy. Kazan was home to prominent writers, scientists, musicians, poets, composers, like Nikolai Lobachevsky – the creation of non-Euclidean geometry, Alexander Butlerov – the theory about the structure of organic compounds, Salikh Saidashev – a renowned composer, Phedor Shaliapin – the world famous opera singer, Nikolay Feshin – the Russian artist etc.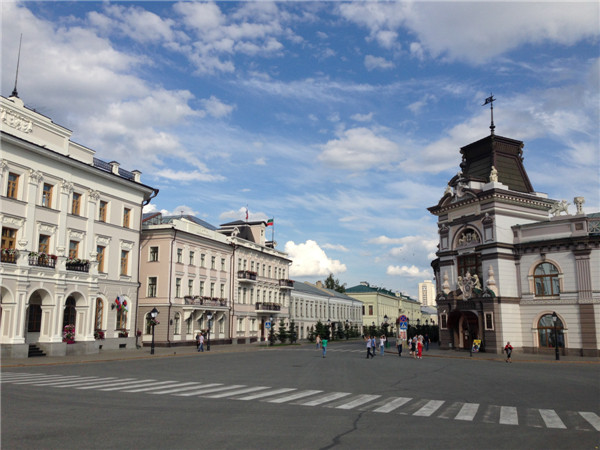 [Photo by Anastasia Sukhoretskaya]
Kazan is situated at the picturesque confluence of Kazanka and Volga rivers which makes it the biggest port along the Volga river. Very close to the city center there is Qaban lake. It is believed that at the bottom of it there is still Khan's treasure hidden.