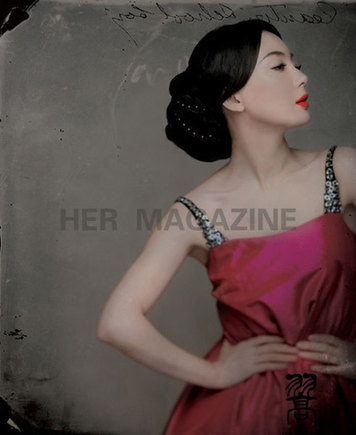 The "cheongsam" or "qipao" is the type of Chinese dress that most frequently comes to minds of westerners. The traditional one-piece, form-fitting dress either in silk or velvet is the obsession of every Chinese woman.
But a "qipao" picks its wearer. Only when the body goes well with the clothing, will the dress come to life and speak for the person wearing it.
Actress Chen Shu, hailed as the "Queen of the Qipao," is a woman with a physique and complexion that perfectly fits the "qipao," the article said.
In a photo spread the actress shot for the November issue of "Her" magazine, Chen tastefully shows off her beauty in a variety of "qipao."
Chen became popular with her portrayal of Bai Liushu in this year's hit TV series "Love in a Fallen City," a widely acclaimed adaptation of a story by renowned female writer Eileen Chang.
She made a deep impression with her character Bai, a struggling woman who seeks true love during in wartime Shanghai in the 1930s and 1940s. In the series, Chen wears a bevy of gorgeous "qipao."