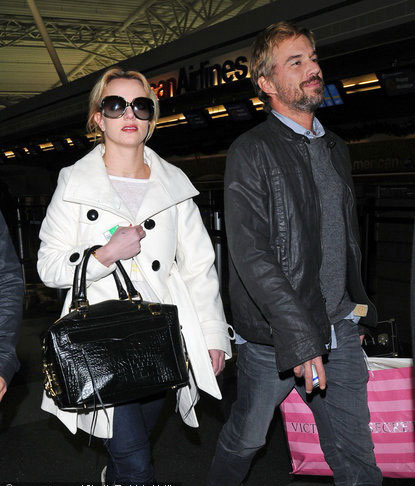 Britney Spears with her boyfriend Jason Trawick arrived at JFK airport in New York City, December 19, 2009. [CFP]
Britney Spears is hoping that before 2009 ends, her boyfriend Jason Trawick will pop the question, or so says In Touch Weekly.
Although for months there have been rumors that Spears was ready to head down the aisle again, a Dec. 9 outing has people talking. On that day, Spears was spotted in several Beverly Hills jewelry stores, looking at engagement rings — all by herself.
Related readings:


 Britney Spears stories; some absurd


 Britney Spears and boyfriend at airport


 Spears back in control

"Britney is ready to marry Jason," says a friend of the 28-year-old, who reportedly has been reading bridal magazines and is hoping for a big, traditional wedding in the summer of 2010 — even though Jason has yet to pop the question. "She wants to be with him 24/7," reports In Touch.
Determined to get Trawick to settle down with her, Spears has also begun making plans for married life, according to the magazine, and is urging Jason to cut back on his career. An agent at WME, Trawick represented Spears long before the two of them began to date, and his client list has included Hilary Duff and Paris Hilton.
"His career is demanding," the friend explains to the magazine. "He can be on the phone or on his computer at any hour, day or night, and Britney finds that she's competing with his work for attention."
The friend says that since Spears makes enough money to support both of them, she doesn't see why Jason has to work as much as he does. "Britney doesn't want to marry a workaholic," the friend told In Touch.