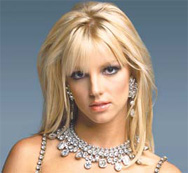 Britney Spears (pictured) is set to regain control of her affairs from her father Jamie now her Circus tour has ended.
The 28-year-old singer's father Jamie Spears - who was made co-conservator of her personal and professional affairs after her public breakdown in 2008 - has met with lawyers and wants a judge to review the conditions of the agreement now Britney's Circus tour has ended.
According to gossip website TMZ, there have been "several lengthy meetings recently between the lawyers and the court commissioner in the commissioner's chambers".
Although they've met with the judge, Jamie and Britney's lawyers cannot decide whether or not the conservatorship ends.
Instead, a "capacity expert" - a court-appointed psychiatrist - will evaluate Britney and submit his results to the court commissioner.
While Britney could soon be in control of her personal life, her business interests are likely to be protected for longer.
TMZ reported: "There are actually two conservatorships - one over Britney, the person, and the other over Britney's business affairs. We're told the business conservatorship will likely continue. The issue on the table is whether to end the conservatorship over Britney, the person. Again, no decisions have been made, but it's all moving in that direction."