Nansha's exclusive tax policy to benefit enterprises, boost development
With a commitment to boost innovation-driven development, Nansha district in Guangzhou, capital of Guangdong province, is capitalizing on the State's favorable corporate income tax policy that was tailor-made for the district in a bid to establish a modern industrial system.
The corporate tax incentive came in the wake of the preferential personal income tax policy in July for Hong Kong and Macao residents working in Nansha. The new policy allows those people in the district to enjoy the same tax rate as they did at home.
Both policies, in effect from 2022 to 2026, are the State's preferential tax treatment for better positioning Nansha in its endeavors to carry out the nation's master plan for the district. The master plan is called the Overall Plan for Promoting Comprehensive Cooperation among Guangdong, Hong Kong and Macao by Further Deepening Opening-up in Nansha District of Guangzhou. It was officially released by the State Council on June 14.
According to the unique policy, enterprises in Nansha Bay, Qingsheng Hub and Nansha Hub — the launch areas of Nansha district — will enjoy a preferential corporate income tax rate of 15 percent, so long as they are involved in any of the 140 preference items in the eight categories of high technology, information technology, advanced manufacturing, biomedicine, new energy and new materials, shipping logistics, modern service or finance. The array of beneficiary industries is unprecedentedly wide.
The high-tech category is further divided into 35 industrial catalogs in four minor categories, including artificial intelligence, integrated circuits, high-end equipment, life science and healthcare, energy conservation and ecologically friendly technology.
High-tech enterprises or technology-based small and medium-sized enterprises throughout the district, if engaged in the high-tech category, are allowed to extend their carry-over of losses up to 13 years from the previous high of 10 years. The losses refer to those incurred for a maximum period of eight years, as compared to five years, before they are officially certified as high-tech firms or technology-based SMEs.
Enterprises that meet the conditions of both tax reduction and loss carry-forward are allowed to enjoy both preferential treatments at the same time.
Fu Zhengping, head of the Institute of Free Trade Zones at Sun Yatsen University, said the new corporate tax policy will help enhance Nansha's competitiveness and guide its industry to achieve high-end development while also helping to attract more investment and talent.
Nansha has made great progress in system innovation, business environment and industrial development, he noted, adding that the new policy will impose a duplicate effect on the district's future development.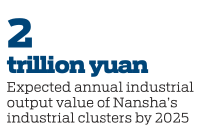 In recent years, Nansha has hammered out a large package of incentives including subsidies worth more than 20 billion yuan ($2.8 billion) to support innovation, industry, funds and talent, among which talent who make great contributions to the district's development can apply for a reward equal to 40 percent of their personal income tax paid in the previous year.
Analysts said the new preferential policy will stimulate the industrial vitality of Nansha, help concentrate innovation factors and help Nansha build itself into an innovation highland.
The tax reduction policy will also greatly relieve the burden on enterprises, which will enhance the confidence of Hong Kong and Macao enterprises to be based in Nansha, they said. Nansha will play its role in coordinating development with Hong Kong and Macao under the framework of Guangdong-Hong Kong-Macao Greater Bay Area.
In addition, such preferential policies will encourage industrial enterprises to participate in international competition in addition to seizing opportunities in the new round of global scientific and technological revolution as well as the industrial upgrade.
Nansha is accelerating the development of its modern industrial system, with particular emphasis on artificial intelligence, biomedicine and other emerging and future industries, advanced manufacturing and ocean economy. It aims to form industrial clusters capable of realizing an annual industrial output value of 2 trillion yuan by 2025.

From left: A view of Mingzhu Bay, a central business area of Nansha district. A taxpayer finishes procedures under the guidance of a staff member at a tax service hall in Nansha district. CHINA DAILY