Investors flock to hi-tech hub of Guangzhou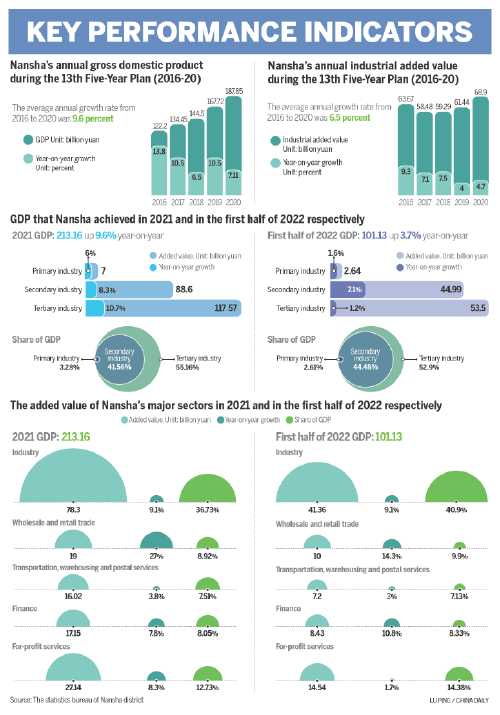 KEY PERFORMANCE INDICATORS LU PING/CHINA DAILY
Development of Nansha's industrial chain complements those in the Greater Bay Area
Nansha district in Guangzhou city has seen a full-fledged development in the industrial chain as it has grown into a high-end manufacturing center after shifting its layout in accordance with the development framework of the Guangdong-Hong Kong-Macao Greater Bay Area, officials said.
In June, the State Council issued an overall plan for Nansha district to increase comprehensive cooperation between Guangdong province and the Hong Kong and Macao special administrative regions. The aim was to foster higher-level opening-up and promote innovation-driven development in the district.
Youngy Investment Holding signed an agreement with Nansha on June 21, announcing the launch of a lithium-ion battery manufacturing base, a research and development center and a lithium-ion battery cathode material production base.
It is the first major project to land in Nansha after the release of the overall plan. The move will not only help the district complete its industrial chain relating to lithium energy, but also bring integration with Nansha's vehicle industry one step closer.
Business insiders said that in addition to the development opportunities brought by the overall plan, Youngy's decision to invest in Nansha is inseparable from the district's mature industrial supply chain.
"Nansha has a strong foundation in two major manufacturing industries-automobiles and new energy vehicles. The complete industrial chain is a key factor to attract battery enterprises," said the chairman of Greater Bay Technology, a fast-charging battery supplier.
Zhai Tianyun, secretary-general of Guangzhou Association of Enterprises with Foreign Investment, said that Nansha's industrial supply chain has a high-level of modernization, stability and anti-risk capability.
Thanks to the mature industrial chain, high-quality supporting facilities such as transport and logistics systems, labor forces, convenient procedures for foreign trade, sound business environment and policy support, Nansha has all the necessary factors required for enterprises' investment and development, Zhai said.
Situated at the southernmost part of Guangzhou, Nansha is the hub connecting city groups on the banks of the Pearl River Estuary. The advantageous geographical location has brought abundant opportunities for business and industry. Relying on those advantages, in recent years, the district has accelerated its pace to construct a modern industrial system based on advanced manufacturing and strategic emerging industries as well as the modern service industry.
By gradually cultivating industrial clusters as the pillars-such as automobile and heavy equipment manufacturing, shipbuilding and marine engineering equipment, and fine chemicals-it has grown into a strategic manufacturing base of China. By introducing innovation-driven industries such as artificial intelligence, the digital economy, biomedicine and new materials, the district has found a new force to drive economic development.
The industrial development has also generated new demand for the modern service industry, including port logistics and financial services.
According to official data, the output value of industries of the enterprises above designated size-those with an annual business revenue of more than 20 million yuan ($2.96 million)-in the district hit 340.2 billion yuan in 2021, up 11.2 percent year-on-year. In the first half of this year, the number reached 181.4 billion yuan.
Among them, the annual output value of the automobile industry has exceeded 100 billion yuan for four years. It totaled 154.9 billion yuan in 2021 and 99.5 billion yuan in the first half of this year. By the end of 2021, the district had gathered about 300 AI enterprises, including Cloudwalk and Pony.ai.
With the settlement and completion of leading enterprises such as AccoPower, AscenPower and Guangzhou Summit Crystal Semiconductor, a group of pilot industrial park projects have kicked off production.
Along with some other key projects, they have boosted the development of the industrial chain-especially for wide bandgap semiconductor materials.
In addition, Nansha has made major breakthroughs in the commercial aerospace business. The first phase of an aerospace flight industrialization base, under the guidance of CAS Space, is nearly finished. Once completed, it will become the first aerospace industry base for commercial use with a whole industrial chain in China.
Located in the geometric center of the Greater Bay Area, Nansha district borders a number of China's manufacturing base cities such as Dongguan, Zhongshan and Foshan. It is 38 nautical miles (70.38 kilometers) away from Hong Kong and 41 nm away from Macao. To date, Nansha port has built wharves that can handle containers, automobiles, oil and general purposes.