Sino-American hydrogen forum held online
Forum explores potential for establishing hydrogen cooperation between California and key Chinese regions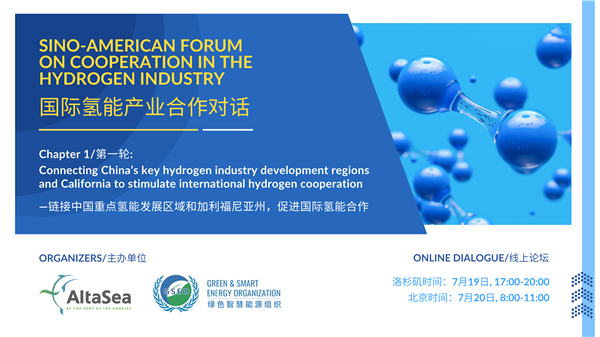 The 2022 Sino-American Forum on Cooperation in the Hydrogen Energy Industry is held online on July 20. [Photo provided to China Daily]
The 2022 Sino-American Forum on Cooperation in the Hydrogen Energy Industry was held online on July 20, with the strong support of relevant Chinese and American public and private bodies and with the goal of linking China's key hydrogen energy development regions and their Californian counterparts.
The forum was jointly hosted by the Green & Smart Energy Organization (GSEO) and AltaSea at the port of Los Angeles, a non-profit at the center of California's blue economy and a leading voice in California's efforts to establish a renewable hydrogen hub.
Approximately 100 guests attended the forum. They represented leading companies, organizations, and government agencies active in research and development, policy-making, financing, and consultation related to cutting-edge renewable hydrogen applications from California and multiple Chinese regions.
California is not only the world's fifth largest economy and the home of Silicon Valley, but is also an international hydrogen energy pilot area and the region with the largest number of fuel cell vehicles in the world. It has nearly 20 years of experience developing a hydrogen industry and a relatively mature system comprising policy and legislation, strategic planning, technology R&D, industrial support, and downstream applications.
This forum was launched after careful design and consideration of the strong demand for hydrogen industry dialogue by various regions in China and the United States, as well as the broad prospects for strategic cooperation in hydrogen ports.
With a growing global consensus on the need for united international action on green development and carbon neutrality, the forum had contributed to the rising chorus for strengthening climate cooperation and energy governance, and had built a platform for the mutual discussion and exchange of cooperation opportunities.
Zhou Hongchun, researcher at the State Council Development Research Center, suggested that the key to realize China's dual carbon goals is the green and low-carbon transformation of the energy system, and that energy security in the context of high oil prices calls for the development of hydrogen energy.
Speakers from California outlined the state's broad-level green development plans and the importance of international cooperation in supporting renewable hydrogen development.
Gia Brazil Vacin, assistant deputy director of Zero-emission Vehicle Market Development at the California Governor's Office of Business and Economic Development (GO-Biz), introduced the state's incentive programs driving zero-emission vehicle deployment and efforts underway for California to qualify for a national program creating regional renewable hydrogen hubs.
Craig Cogut, founding partner and CEO at Pegasus Capital Advisors, highlighted the importance of events like this forum for sharing and developing global solutions that can be adopted locally and contribute to creating a green hydrogen economy.
Xu Tongbiao, chief economist of Shenzhen Energy Group, one of China's largest comprehensive energy companies and the first to be listed on Shenzhen's stock exchange, spoke about Shenzhen Energy Group's collaboration with the GSEO on planning international cooperation projects and encouraged leading enterprises at home and abroad to invest in Shenzhen, build a major innovation platform for hydrogen energy, and share in the strategic opportunity for green development in the Greater Bay Area.
Multiple guests presented on innovative renewable hydrogen projects underway in California. Christopher Cannon, director of Environmental Management at the Port of Los Angeles, the busiest container port in the US, summarized the port's decarbonization plans and targets, and gave an overview of ongoing plans between the Port of Los Angeles and the Port of Shanghai to establish green shipping channels as part of their overall commitment to decarbonizing international marine activities.
Armando Infanzon, director of Business Development at Southern California Gas Company (SoCalGas), America's largest natural gas utility, highlighted the company's "Angeles Link" project, which would represent the nation's largest green hydrogen infrastructure system.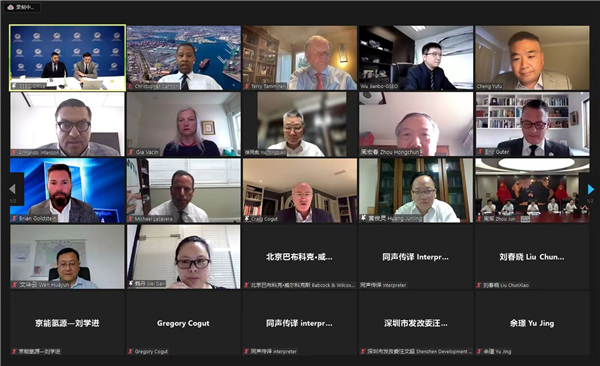 The 2022 Sino-American Forum on Cooperation in the Hydrogen Energy Industry is held online on July 20. [Photo provided to China Daily]
The forum also provided a spotlight on advanced hydrogen and new-energy projects underway in multiple Chinese regions, with Huang Junling, director of the International Clean Energy Research Office of China Three Gorges Corporation, the world's largest hydropower developer and operator, focusing on a project in Inner Mongolia's Ulaanqab city where China Three Gorges is building the world's largest wind and solar energy storage integration project. Huang also outlined the structure of the group's hydrogen energy R&D and its desire to carry out more international exchange and cooperation.
Wen Huayun, general manager at Sichuan Energy Investment Group, the largest energy company in Sichuan, outlined the province's rich potential for green hydrogen production, which includes China's greatest installed hydropower capacity and the company's role in building Western China's first comprehensive hydrogen refueling stations and other hydrogen activities.
Michael LaCavera, managing director for the US West Coast at Vopak, the world's largest petrochemical logistics company, provided insight on key factors for developing a sustainable and resilient renewable hydrogen hub in California, which include high capacity for hydrogen storage, system scalability, and sufficient pipeline infrastructure.
Eric Guter, vice-president of Hydrogen for Mobility at Air Products, the world's largest hydrogen producer, provided a broad overview of the company's investment of approximately $12 billion in clean hydrogen production projects, and mentioned that the completion of several of these projects will enable the annual production of over 4,000 metric tons of clean hydrogen around the world.
Speakers from California gave a comprehensive account of activities in the state for utilizing hydrogen in port decarbonization efforts, and Shenzhen Yantian Port Group's head of Investment and Development, Wei Dan, presented related initiatives at Yantian Port, one of China's largest container facilities, which handles one-third of imports and exports in Guangdong province, to utilize offshore wind power, photovoltaic power generation, hydrogen energy and other new energy technologies to create zero-carbon port facilities.
Terry Tamminen, president and CEO of AltaSea at the Port of Los Angeles and former secretary of the California Environmental Protection Agency, stressed that in regards to hydrogen applications "we need to see these technologies flourish, and exchange technologies between China and the United States to ensure both countries are benefiting from the most efficient and productive technology."
Brian Goldstein, executive director at Energy Independence Now, presented several areas where government incentives and policies can support hydrogen applications with great opportunities for carbon emissions but where there are not presently strong market cases for investment, such as in tugboats, transit buses, and cargo handling equipment.
The Green & Smart Energy Organization was founded with support from Long Yongtu, China's chief negotiator for accession to the World Trade Organization, for the purpose of accelerating carbon neutrality, promoting clean and low-carbon transformation, and the smart development of global energy.
The organization strives to implement effective clean energy policies, promote multilateral collaboration, and support innovative partnerships in all aspects of the renewable energy transition.
GSEO's General-Secretary Wu Jianbo concluded that the forum had been beneficial in gathering global experts in the hydrogen sector for dialogue on much-needed cooperation in building the global green hydrogen industry, and affirmed that the GSEO is committed to fostering mutually green development projects between Chinese and international counterparts.