Chaozhou pays respect to ancient past while keeping eye on future
City in eastern Guangdong province and its people maintain traditions of cultural enlightenment and education and pursue a high-quality life in all aspects, especially elaborate craftsmanship
Despite being close to the Guangdong-Hong Kong-Macao Greater Bay Area-one of China's most dynamic regions teeming with the hustle and bustle of business-Chaozhou retains a lot of old-world charm, with traditional customs and a wealth of cultural heritage.
Situated in the eastern part of South China's Guangdong province and neighboring Fujian province, the city faces the sea to the east. It has a long fishing history, dating back 8,000 years. Archaeological discoveries show that humans lived there, catching fish.
"Chaozhou's culture is a dynamic, open system," said Huang Jingzhong, vice-president of Hanshan Normal University in the city and an expert of Chaozhou culture. "It is an outgrowth of interactions between indigenous and immigrant civilizations."
During some periods in ancient times, the nation was split into smaller regimes with frequent wars breaking out. To escape the chaos, crowds of people originally living in the Central Plain areas, roughly referring to the middle and lower reaches of the Yellow River that were the economic and cultural center, went all the way to the south. Some of them settled in Chaozhou.
Generally, only wealthy families could afford such a long trip, and they were particular about their quality of life, Huang said. "They brought not only production technologies but also values and lifestyles, spurring the integration of farming and fishing cultures."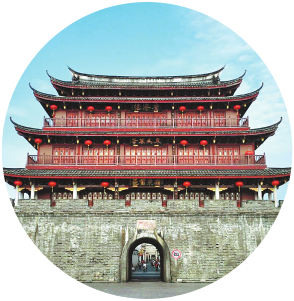 Guangji Mansion
Far-reaching effect
In addition to the immigrant population, officials dispatched from the royal court were another force pushing Chaozhou ahead.
Among them was Han Yu, a noted high-ranking official and philosopher during the Tang Dynasty (618-907). He created many great works of literature, including On Teaching, an essay on education, which is a standard section of high-school textbooks in contemporary China.
Han was sent to Chaozhou in 819 to head up the city. He left a rich legacy in Chaozhou during his eight-month service, spending almost all of his income at the time promoting education and Confucianism. "Han's greatest achievement in Chaozhou was his role as a guide to cultural enlightenment in the city," Huang said. What Han did still has a far-reaching influence over Chaozhou's character. Since his service, Confucius teachings and a focus on education have gained common acceptance in the city.
In gratitude to Han, locals built a memorial temple in 999 to worship him, which has become a national-level heritage site.
The mother river was even renamed the Hanjiang River and a nearby mountain was renamed the Hanshan Mountain. The school at the foot of the mountain evolved into today's Hanshan Normal University, which prepares future teachers for their careers.
Chaozhou is a city of gratitude, a local official said.
Successful businesspeople from Chaozhou like to pay something back to their hometown.
Another example is Shantang, a type of traditional nongovernmental charity organization, where Chaozhou people help or donate to those in difficulty. They also hold gatherings and cultural events there. Currently, Shantang facilities are active both at home and abroad.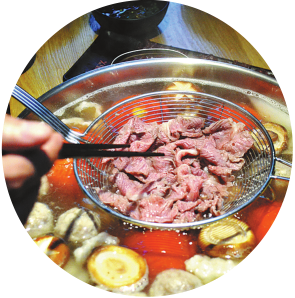 Beef hotpot
Elaborate efforts
People in Chaozhou prefer the finer things in life-that doesn't mean buying luxury goods and having an expensive lifestyle, but rather, means that they make elaborate efforts to refine all aspects of their daily life and appreciate things such as exquisite craftsmanship and tasteful architecture.
There is an old saying that Chaozhou's farming is likened to subtle embroidery. It expresses the recognition of local farmers' continuous efforts to improve technologies and increase the yields of their crops.
Gongfu tea, a local tea ritual, is an exemplary case to demonstrate Chaozhou people's attitude to life. It is so popular citywide that almost wherever visitors go, they will be greeted with the ritual.
Different from the practice of brewing tea for a while in a normal cup in northern China, the typical tea set used in the gongfu tea ritual can be described as being "miniature". Instead of waiting for the tea to cool down, it takes just a few minutes to serve a steaming cup of tea during a gongfu tea ritual. After a sip of the strong tea, the taste lingers with subtle sweetness that brings relaxation and refreshment.
The ritual has a set of procedures passed down from ancient times, which has been listed among China's national intangible cultural heritage. "It is not for personal ostentation but shows our lifestyle. That is, no matter how hard we work, we can still manage to find a way of enjoying ourselves," Huang said. "You may find villagers taking a tea set with themselves when they go farming. During a break near their fields, they'll have a cup of tea to relax."
Ye Hanzhong, an inheritor of the cultural heritage, said that though the gongfu sounds like kung fu, it has nothing to do with the martial art. Rather, it means focusing attention and elaborate effort to make the tea.
There is no unnecessary step in the ritual-all the procedures and standards were designed to make a cup of satisfactory tea for guests-from choice of tea utensils to tea-making techniques and tasting tips, he said. "The ritual itself is a dialogue between people and tea, the host and guests. The intangible cultural heritage is also a vehicle for communication, promoting the folk conventions and unique lifestyles."
The Chaozhou cuisine, a branch of Cantonese cuisine, has its own unique style for processing ingredients. Among the most favorite cuisines in China, it is famed for its freshness, mild yet diverse flavors and nutritional health, as well as a rich variety of ingredients. Signature dishes include beef balls, beef hotpot, marinated meat, oyster omelets, and claypot seafood porridge, to name just a few.
Residents from nearby regions often drive all the way to Chaozhou, just to delight their taste buds.
In addition to Chaozhou cuisine and gongfu tea, the city is home to another 15 national intangible cultural heritage items.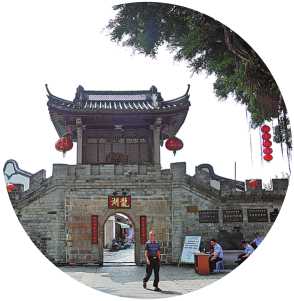 Longhu Ancient Village
On the move
"Chaozhou people are a group on the move who have a strong attachment to their homeland," Huang said.
Since ancient times, many of them have taken advantage of the city's location and explored overseas, especially the Southeast Asia region, and created success stories of their own business careers. The group has even gained the name of Chaoshang merchants, which still carries weight in local communities.
Their experiences show that while Chaozhou people have stayed true to traditions, they have a bold, assertive and innovative side with a pragmatic approach to dealing with new circumstances.
From either moving from the Central Plain in ancient times, or relocating to other regions of China or foreign countries to seek new opportunities, they have kept a strong desire for a sense of belonging and cultural identity. So among Chaozhou people, the heritage and customs that embody their cultural inheritance are preserved better, according to Huang.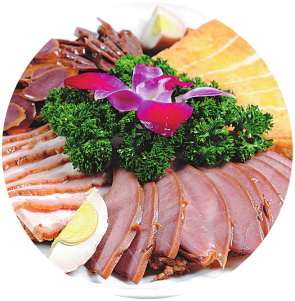 Marinated meat platter