Integrated circuit projects to raise special district's status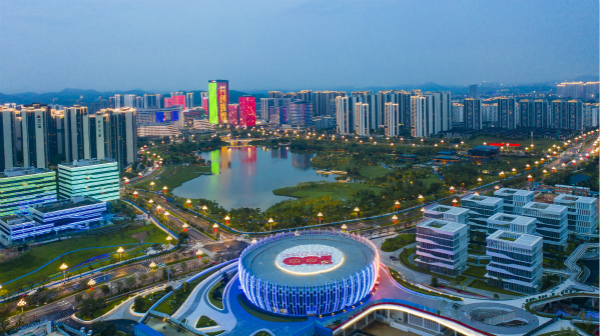 Guangzhou Development District in South China's Guangdong province is making efforts to become a major player in the integrated circuit industry nationwide, with seven new IC projects starting construction on Monday. CHINA DAILY
Guangzhou Development District in South China's Guangdong province welcomed seven new integrated circuit projects on Monday, further bolstering the district's efforts to become a major player in the IC industry nationwide.
On Monday, Guangdong held an event announcing the construction for more than 1,000 major projects in the second half of 2021. Of them, 105 projects in Guangzhou Development District were started that day, with a total investment of 145.3 billion yuan ($22.48 billion).
Projects for Guangzhou CanSemi Technology, Shennan Circuits, Guangdong Hinno-Tech and Shenzhen Zhicheng Semiconductor Materials, were among those started.
According to the district's administrative committee, the Shennan Circuits project is expected to improve the domestic FC-BGA (flip chip ball grid array) packaging substrate industry ecology.
The FC-BGA packaging substrate is a core component for IC products, has high technical requirements, a long supply cycle and is difficult to purchase.
The completion of the Shennan Circuits project will play a positive role in promoting the development of the IC industry in Guangzhou Development District, according to the local government.
"The future development of the domestic high-end IC(industry) will not only rely on breakthroughs in wafer manufacturing, but also the development of FC-BGA packing substrate for high-quality chips," said Yang Zhicheng, president of Shennan Circuits.
The company is projected to invest 6 billion yuan to develop FC-BGA packaging substrate in Guangzhou Development District, and this is because Guangzhou has already achieved remarkable results in building an IC industry ecology, according to Yang.
A newly started project of Guangzhou CanSemi Technology is a second-phase project for the company in the district.
Since it settled in China-Singapore Guangzhou Knowledge City, located in Guangzhou Development District, in 2017, CanSemi Technology has helped to attract 32 companies from sectors including chip design, packaging and testing and terminal application.
The project of Shenzhen Zhicheng Semiconductor Materials will focus on the research, development and production of new materials and core components for semiconductor chips.
Guangdong Hinno-Tech's project in Guangzhou Development District is expected to realize an output value of 2.73 billion yuan by the third year after it's put into operation. The project will be completed and start trial production as soon as December this year.
Most of the seven new IC projects are located in Guangzhou Development District's semiconductor industrial park, which has a total planning area of 6.6 square kilometers.
As a national IC industry development demonstration area, the park aims to achieve a total annual revenue of its IC companies exceeding 65 billion yuan by 2025, and strives to be a key IC industrial cluster with global influence by 2035.
According to the local government, as of now, Guangzhou Development District has gathered more than 80 IC companies, the total revenue of which surpasses 10 billion yuan.
In addition, Guangzhou Development District signed 41 new projects at another event on Tuesday. With a total investment of 175.4 billion yuan, the projects have an estimated output value of 254.3 billion yuan.
The 41 projects cover sectors including new-generation information technology, biomedicine, new energy, artificial intelligence, digital economy and modern service.
As a domestic hub for developing biomedicine, Guangzhou Development District has gathered more than 3,000 biomedicine companies so far, and aims to achieve an industrial scale of 100 billion yuan.