Urban renewal schemes to revitalize environment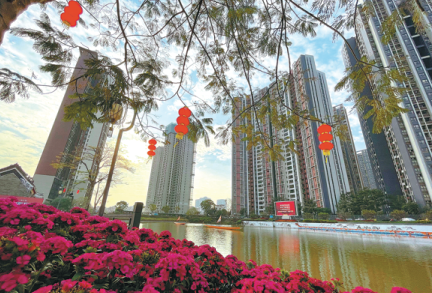 Guangzhou Development District in Guangdong province launches a series of projects to refresh the city's appearance. CHINA DAILY
Guangzhou Development District in South China's Guangdong province is making efforts to refresh the city's appearance, with the district launching a series of projects on Tuesday.
Apart from signing agreements for 41 industrial projects, the development district started the construction of 50 urban renewal projects, and put into operation another 266 projects on the same day.
The projects involve a total investment of more than 370 billion yuan ($57.23 billion) and are expected to generate a production output value of 570 billion yuan.
According to the local government, the 50 urban renewal projects, with total investment of 42.1 billion yuan, will cover 158 hectares. They include villagers' resettlement houses, educational projects and old residential community renovation projects. The livelihood projects will account for 86 percent of the total.
There are 22 resettlement housing projects under construction. The projects will cover an area of 2.09 million square meters and are planned to involve an investment of 26.9 billion yuan. After completion, more than 20,000 apartments will be available.
Seven settlements are to begin construction of education support projects.
For instance, the village of Tangcun will build five kindergartens, two primary schools, one high school and one nine-year school, which covers primary and high-school education. Covering 57,000 sq m altogether, the schools are expected to become an educational resource hub of China-Singapore Guangzhou Knowledge City, with a planned investment of 150 million yuan.
According to Hou Ben, director of the Guangzhou development district urban renewal bureau, since it was approved as a pilot of reform and innovation in the reconstruction of Guangdong, the development district has released a series of policies and action plans for "three-old projects", which refers to old towns, old factories and old villages.
Last year, the total area of buildings marked for demolition reached 14.9 million sq m. This accounts for 78 percent of such work over the past 10 years. In 2020, it made up 83 percent of the village reconstruction and demolition work in Guangzhou city.
In the first five months of this year, the local government removed 6.12 million sq m of old village houses, with a fixed investment of about 21.23 billion yuan, up 313 percent year-on-year.
According to the local government, urban renewal also aims to promote industrial development. In recent years, Guangzhou Development District has created 1.7 square kilometers of industrial land through the reconstruction of old factories, which provided high-quality resources for investment projects and industrial development.
The district is expected to provide industrial land of 30 sq km. The average output value of the industrial land could reach 20 billion yuan per sq km, which is four times higher than before.