China-Singapore Guangzhou Knowledge City opens new chapter of cooperative development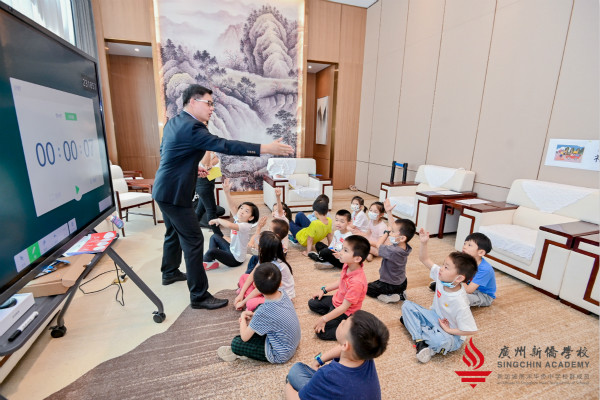 SingChin Academy has a total investment of one billion yuan, and shall offer a 12-year international bilingual curriculum covering primary, middle and high school levels. [Photo provided to China Daily]
A new international school at China-Singapore Guangzhou Knowledge City in South China's Guangdong province is progressing smoothly with enrollments ahead of its opening in September this year.
SingChin Academy, a cooperation project between China and Singapore, is affiliated to Hwa Chong Family of Schools.
The other existing members of Singapore Hwa Chong Family of Schools are Hwa Chong Institution and Hwa Chong International School, founded in 1919 and 2005 respectively in Singapore.
The academy has a total investment of one billion yuan, and shall offer a 12-year international bilingual curriculum covering primary, middle and high school levels.Sitting on a land site of 7 hectares, with a total floor area of 100,000 square meters, the academy has a projected enrollment size of 3,000 students.
SingChin Academy is set to offer the best of Singapore and China's quality holistic education for the children of both local and foreign families in Guangdong-Hong Kong-Macao Greater Bay Area and beyond.
China-Singapore Guangzhou Knowledge City, founded in 2010, was upgraded to a State-level bilateral cooperation project in November 2018.
Featuring city-industry integration, the knowledge city combines areas of industrial development with supporting facilities, residential areas and cultural attractions, to allow residents to conveniently live and work there.
Statistics show that by the end of 2020, the city had poured in a total investment in fixed assets exceeding 180.4 billion yuan, and lured 23,600 companies to settle, with total registered capital of 439.3 billion yuan.
"With the upgrading of its overall development plan, the Guangzhou knowledge city has entered the second phase of development and construction, which focuses on forward-looking fields such as intellectual property, digital economy, smart cities and scientific and technological innovation," said Xu Hui, deputy director at the development and construction office of China-Singapore Guangzhou Knowledge City.
As an important driver of the second phase of the Guangzhou knowledge city's development, the Sino-Singaporean demonstration zone for international scientific innovation cooperation is under construction.
With construction starting in September last year, the demonstration zone has a planning area of 2 sq km and is set to reap a total investment of 50 billion yuan. The zone will prioritize the development of industries including biomedicine, health, intelligent manufacturing, new-generation information technology, new materials, new energy and financial services.
The knowledge tower, another benchmark project between Singapore and Guangdong, the main part of which started construction in June last year, is scheduled for completion in 2024.
With a design height of 330 meters, the tower will be a super-high-rise office and sharing space, helping promote China-Singapore cooperation in scientific and technological innovation, urban construction, personnel exchanges and training and investment attraction.
Behind all the achievements made in the Guangzhou knowledge city is China-Singapore Guangzhou Knowledge City Investment& Development, which is responsible for the overall development of the city and the investment and construction of its infrastructure and supporting facilities.
"The company is an important platform for China-Singapore cooperation in Guangdong. In the future, the company will deeply integrate the resources of both sides to help build a global industrial ecosystem with smart technology industries as the core in the Guangzhou knowledge city," said Chen Changxin, the CEO of China-Singapore Guangzhou Knowledge City Investment & Development Company.