District gets personnel with human resources' services
With the aim of becoming a district strong in talents, Siming in Xiamen, Fujian province, has made strides in its personnel strategy by implementing innovative services.
In 2019, Siming launched its Chief Service Officer program, a new job for officials from the district. The CSOs provide all-around and tailor-made services to the district's companies and potential investors.
In June, the district government organized nearly 1,000 CSOs to visit local companies to learn about their situations and requirements for talent attraction and update them on the latest policies.
"Due to the effects of the COVID-19 pandemic, companies have encountered more difficulties this year," said Chen Yonggang, a CSO and an official from the human resources and social security bureau in Siming district.
"That requires us to put more effort into helping them solve problems in time," Chen said.
According to Chen, he and his teammates have toured local companies to learn about their needs in employing workers and helped them to connect with colleges and universities across the country.
To promote talent service, the district government has assembled 2,054 company managers or senior employees to make up a team of Chief Liaison Officers, a complementary role to that of a CSO, to explain government policies and offer guidance on producing talented people for enterprises. The move is aimed at expanding the communication between the district authorities and companies, and to let the CSO program play a bigger role in exploring a new horizon of talent services in Siming, local officials said.
Zheng Xiaofang, a CLO representative from local game developer Dianchu Technology, said the company has hired many graduates and qualified personnel to meet its rapid development, and is keen to attract senior talent.
The collaboration of CSO and CLO will better serve talents and help promote companies' forward development, Zheng said.
Official data show that, to date, Siming district has organized CSOs to conduct 123 policy promotions, visit 12,813 companies and tackled 1,648 enquiries.
Focusing on a series of activities and projects for the talent service, Siming district is committed to carrying out measures in line with the requirements of corporations and handling key issues for talent services, said Zhang Gu, a member of the standing committee of the district's Party committee.
Attracting talented people from around the world to Siming by providing an efficient service and helping enterprises in their businesses is at the heart of the district's CSO philosophy, Zhang said.
This year, the district has optimized the resources of its talent service stations, moving some of the locations to its commercial hubs. These include the Guanyinshan commercial business center and the Longshan cultural and creative park. They help to provide one-stop services ranging from policy consultation, startup guidance and information collection to personnel applications, according to local officials.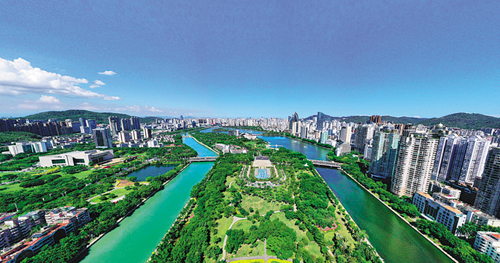 Yundang Lake in Siming district is the centerpiece to the city's well-planned urban layout and its burgeoning business development. ZUO JIANAN/CHINA DAILY