Sino-France garden breaks ground in Ningbo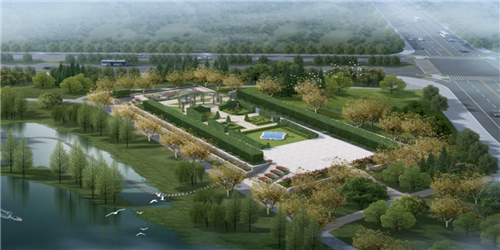 A rendering of the Sino-France Friendship Garden in Ningbo, East China's Zhejiang province. [Photo/cnnb.com.cn]
The Sino-France Friendship Garden, jointly funded by Ningbo and Rouen, France, broke ground in Ningbo, Zhejiang province on Oct 12, according to local media reports.
This year marks the 30th anniversary of the establishment of sisterhood relations between Ningbo and Rouen. The garden comes as part of efforts by the two cities to cement bilateral ties.
Rouen is a city on the River Seine in northern France and the capital of the region of Normandy. Over the past 30 years, Ningbo and Rouen have cooperated closely in terms of economy, trade, culture, education, health care and city management.
Rouen was honored as an outstanding city for its exchange and cooperation with China by the Chinese People's Association for Friendship with Foreign Countries.
Situated in Ningbo's Eastern New City, the garden, the first to be co-built by Ningbo and a foreign city, will be built in a traditional French style, showcasing Rouen's history, culture and natural scenery.
It is set to occupy 7,650 square meters and is expected to finish construction by the end of this year.
Meanwhile, a Chinese-style garden will also be built in Rouen. Located on Pasteur Avenue on the right bank of the River Seine, the garden will be built using traditional Chinese gardening techniques and will highlight Ningbo culture.