Friendly business environment attracts influx of entrepreneurs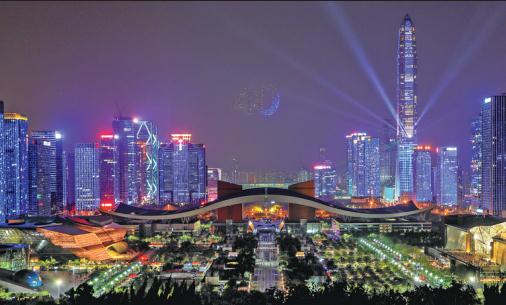 A dazzling night view of Shenzhen. The city has been one of the pioneers and front­runners of reform and opening­up in China since it was designated a special economic zone 40 years ago. PROVIDED TO CHINA DAILY
Thanks to efforts aimed at improving its business environment, Shenzhen in South China's Guangdong province has become one of the most attractive destinations in China for global entrepreneurs.
The city released in March this year's key tasks for further optimizing its business environment. The package comprises 210 reforms covering 14 areas, including business registration, project approval, urban facility access and services, real estate registration, intellectual property protection and application, and market supervision.
Shenzhen will also utilize big data, 5G, artificial intelligence and cloud services to create intelligent platforms to make registrations, investment, tax filing and other services more convenient.
The measures aim to create a world-class open and transparent business environment. The city will continue to support the healthy and sustainable development of companies and boost their confidence in the wake of the COVID-19 pandemic, the local government said.
Last year's measures have been claimed a success by the government. They included China's first intelligent business license approval system that can process individual business registrations within seconds.
The official iShenzhen app, which was launched last year, can be used for 4,700 services, and can process 98 percent of all administrative examination and approval items online, reducing by 70 percent government submissions from businesses and individuals.
Through the app, customs clearance time for imports and exports has been reduced by 54 percent and 76 percent respectively, ranking the city top in the country in terms of customs clearance efficiency.
The Shenzhen government has established Entrepreneur Day which is celebrated every Nov 1 and is the first day of its kind in China. On that day, government officials communicate with entrepreneurs and provide them with policy consultancy, including tax advice and administrative fee reductions, as well as other helpful services.
Measures have also been released to increase support for the development of the city's private economy, reducing costs by more than 100 billion yuan ($14.41 billion), raising bank credit lines by more than 100 billion yuan, increasing issuance of debt by more than 100 billion yuan and setting up a development fund of 100 billion yuan for private companies.
The authorities also attach great importance to legal innovation and IP protection.
A public legal service has been established that covers 760 platforms in Shenzhen to cooperate with legal institutions and provide legal services and advice for private businesses and small and medium-sized enterprises.
According to the China Business Environment and Private Entrepreneurs Evaluation Report released by the Chinese Academy of Social Sciences last December, the comprehensive score of Shenzhen's business environment ranked second among 34 cities in the country. And Shenzhen is the best in terms of opening-up and legal environment, according to the report.
Last year, the city reported it was home to more than 500,000 newly-registered commercial entities and had attracted 280,000 professionals.
According to the local government, Shenzhen will deepen market-oriented reform in the fields of medical care and other services closely related to people's life quality and encourage companies to open high-level medical institutions, elderly care homes and international schools.
Meanwhile, the city will promote reform in its administrative examination and approval system, housing and environmental protection to build a better business environment through coordinated and efficient measures.